There are just so many jobs to be done outside that may include the need for some sort of a ladder, and with all the choices in ladders out there, it may not be easy to find the right one.
Every gardener will need a ladder at some point, whether it is to pick fruit, reach a high hedge for trimming, to get an item from a high shelf in a greenhouse or storage area, or to trim a large tree or bush.
The trick is to get the best gardening ladder for your specific needs, as there are different types.
---
---
Why You May Need a Garden Ladder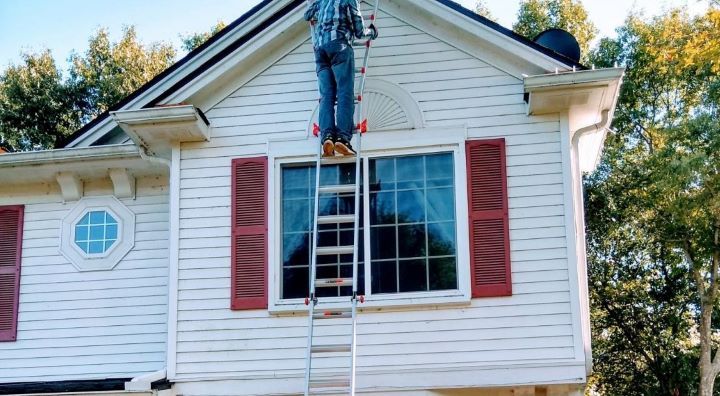 Most Tripod or Orchard ladders as used for tending to orchids where you need to reach fruits for picking and branches on very high trees for pruning. The Tripod ladder is ideal for working on when you need to reach something very high.
Most step ladders should only be used to reach a specific item that is very high and is not ideal for standing and working on. Stepladders come in different sizes and lengths to reach objects at different heights.
For working on a platform, the ladder is also quite ideal. However, they do not come in very high height options.
All in all, the ladder you choose will depend on the specific purpose.
Tripod and Platform ladders are designed for someone to stand and work on, while stepladders are only used for reaching an item at a height, as they do not offer a similar balance to that of a Tripod or a platform ladder.
---
Types of Garden Ladders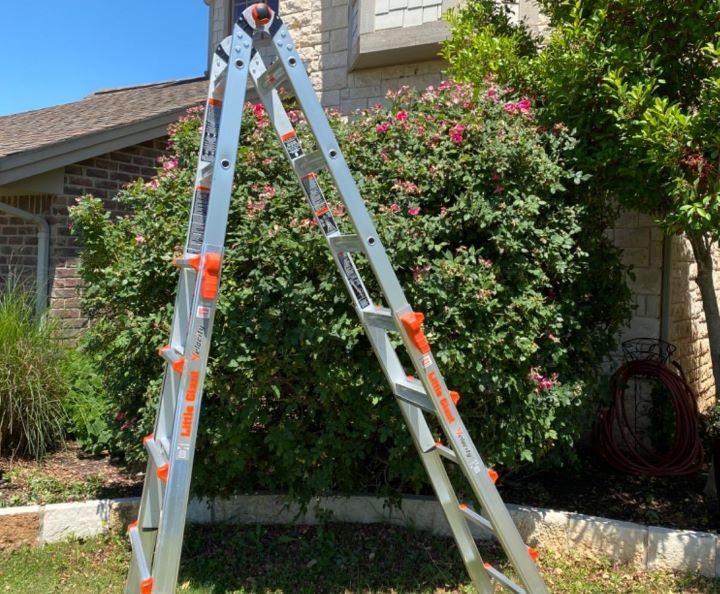 When it comes to the ideal garden ladder, there are three types that you need to consider, which usually work best;
Stepladder – The stepladder, as I have mentioned, should only be used for reaching high items and then put away. They can be used indoors and outdoors and are usually very sturdy and durable but not suitable for performing long tasks. The step ladder comes in different sizes, usually with anything from two to ten steps.
Platform Ladder – The Platform Ladder or Five-Way Platform Ladder, which has five different configurations for use, is more suitable for standing to perform certain tasks on. It is similar to a step ladder with an existing wider platform on which you can stand comfortably.
Tripod or Orchid Ladder – the Tripod or Orchid ladder is usually quite a long ladder designed for picking fruit and tending to large trees or fruit trees and hedges. It is a portable and self-supporting ladder with a flared base for better stability and a tripod pole for support on soft and uneven surfaces such as in the garden. The Tripod ladder is one of our top choices in ladders for hedge trimming, tending to trees, and picking fruit, or similar tasks in the garden.
---
Features of a Good Gardening Ladder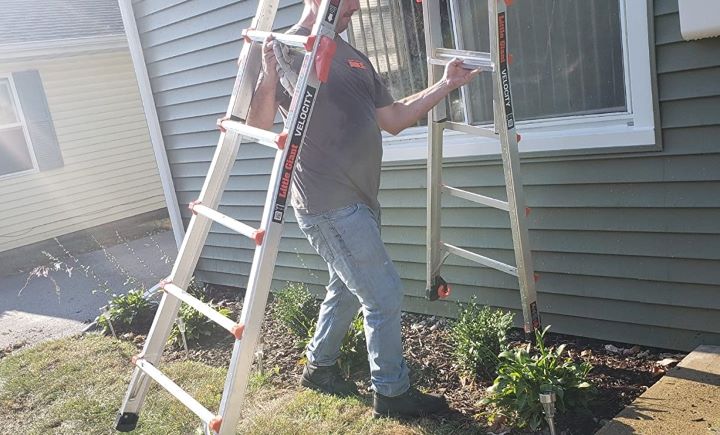 Frame -Any ladder-type needs a durable and sturdy frame that has a rustproof and weather-resistant materials or coating. Aluminum, wood, PVC, and other rust-resistant materials can be used for ladders.
Design – A ladder needs to be easily portable, extremely sturdy and durable, as well as strong enough to hold your weight. The design will depend mostly on the actual type of ladders, such as a step ladder, Platform Ladder, or Tripod ladder.
Pedals and Platform – The pedals on which you step and the platform for standing on the need to have a slip-resistant textured surface or rubber in some models, which keeps you stable on your feet, and that is also durable for stepping on regularly. Wood, rubber, steel, and other materials can be used for the pedals and platform.
Handle – The handles need to be easy to grip and convenient. They may sometimes have an EVA cushioned layer of rubber or other materials for comfort and grip.
Weight Capacity – The size and durability of the ladder are important, along with the weight capacity that it can use. Most ladders can hold a weight of around 250 lbs up to 350 lbs at utmost.
---
Reviews: The Best Gardening Ladders
I have chosen a few of the best available Ladders for gardening from each of the three types do a review on;
---
1
From Little Giant Ladders, we have a tripod ladder for gardening.
As you can see this brand, there are different options and height options from which you can choose.
The ladder has multiple positions and converts to an A-Frame, and extension, trestle plank, and a 90-degree staircase.
There is a Rock Lock that adjusts quickly after you alter the ladder into different configurations.
There are tip and glide wheels for easy portability.
The ladder is rated to hold 300lbs in weight.
---
2
From Werner have a platform design ladder.
The ladder is available id different feet height options.
This is, however, the shorter four-foot model.
It consists mainly of fiberglass and is an imported model from Mexico.
---
3
The Louisville Ladder also comes in different height options from which you can choose.
The ladder consists of durable and weather-resistant fiberglass.
It is a platform design ladder with an extended rail.
The ladder has a 300lbs weight capacity.
---
4
Another addition from Little giant is their heavy-duty tripod ladder design with a 300 lbs weight capacity.
It comes in different height models.
The Tip and Glide wheels are included as well as a triple locking hinge.
It can store and fold easily in its extended height.
---
5
From Delxo, we have a four-step stepping ladder ideal for quickly reaching high objects that are out of reach.
The ladder comes in a two or three-step option or with a lock from which you can choose.
It is portable and easily folds for storage.
The ladder is safe and durable in design.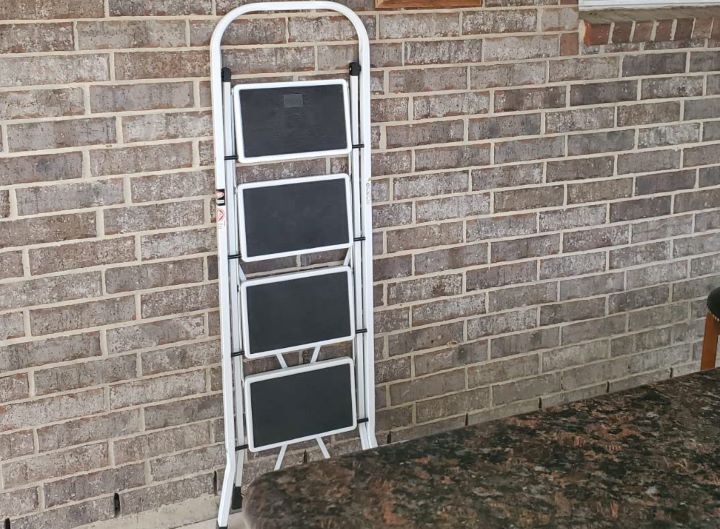 ---
6
From TopFun, we have a two-step step ladder for when you only need to reach items that are slightly too high for you.
This is a small and durable step ladder with slip-resistant pedals.
It consists of aluminum and PVC.
It has a compact and portable size and design.
---
7
This is a smaller wood garden ladder for greenhouse or small garden use.
It comes in three colors and consists of hardwood.
The ladder is a small three-step design.
Ideal for smaller jobs.
---
8
The Little Giant Ladder is a ten-inch A-Frame Ladder.
Combination step and extension ladder.
Ideal for construction work and gardening.
Heavy-duty and durable design.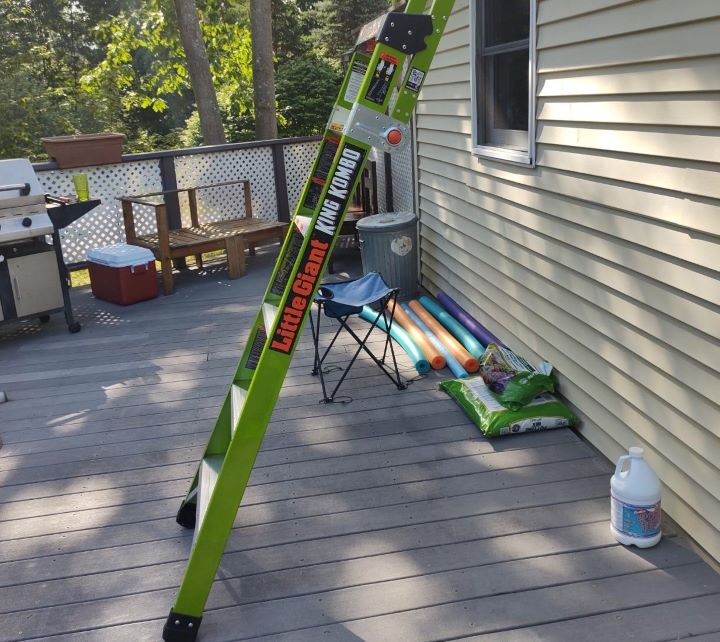 ---
9
The Telescoping ladder is a multi-purpose folding ladder for gardening.
It has detachable tool tray and 330pund weight capacity.
High-quality aluminum alloy construction.
There is also an independent locking system.
---
10
The Jiahe ladder for gardening is sturdy and ideal.
It has a 330 lbs load capacity and sturdy A-Frame.
Safe and easy to store.
Portable and very convenient to use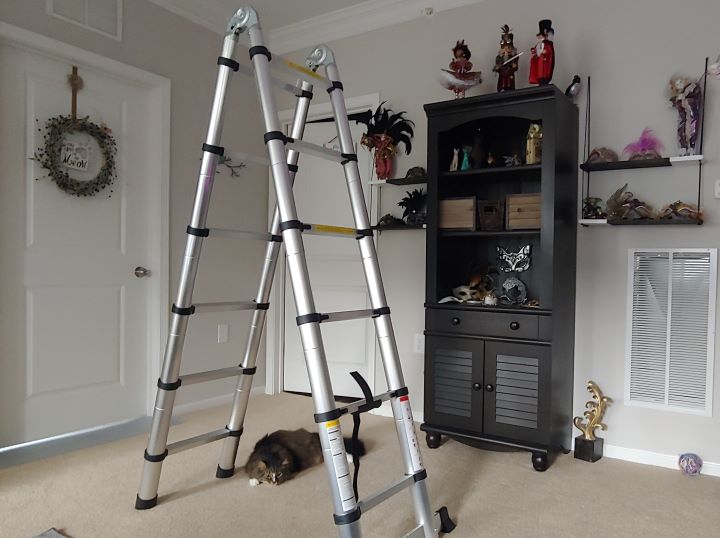 ---
Index Table: Top Rated Ladders for Gardening
---
---