The Wheelbarrow is a versatile tool to help you easily move heavy loads from one area to another. The basic Wheelbarrow has one front wheel and two back feet, with a top container. However, wheelbarrows have changed through the years and become much more than just a basic moving device for heavy loads.
Wheelbarrows have become necessary for larger gardens, construction, and similar work.
The best Wheelbarrow will have a large capacity for heavy loads and flat-resistant, durable rubber tires that roll and move easily.
However, you also get electric and manual wheelbarrows available today.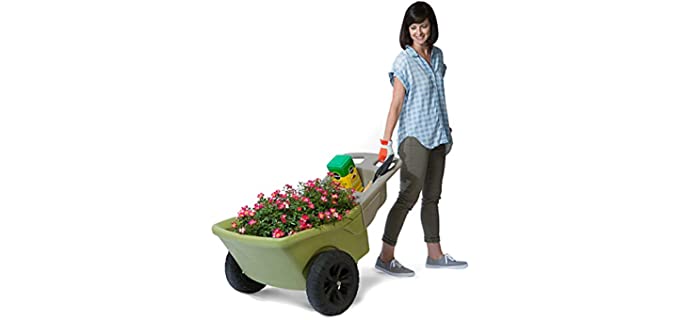 ---
Electric VS Manual Wheelbarrows
Electric Wheelbarrows – As we get older, it may become more difficult to push around and lift heavy wheelbarrows. With an electric Wheelbarrow, there is so much less physical exertion. You get electric and petrol wheelbarrows; however, I find the battery-operated wheelbarrows less hassle and better for the environment. An electric wheelbarrow is much easier to use on steeper hills, and it can generally carry much heavier loads and has a large 200lbs or more capacity.
Manual Operated Wheelbarrows – On the other hand, a manually operated Wheelbarrow may be more suitable and lightweight for smaller garden jobs and general construction work. There is no need for charging batteries; they are light and easy to push around. Manual Wheelbarrows are much more affordable, however, you will have to put in the lift and push work all by yourself, so it does require some physical work from your side.
---
Uses for a Wheelbarrow
There are a few uses for a wheelbarrow;

Gardening – Mostly Wheelbarrows are used for gardening. They are used to move soil from one area to another, clear up dirt and debris, and even carry heavy plants and gardening tools.
Construction – Wheelbarrows are a must-have in construction work for moving soil, debris, cement, and other materials from one area to the next or moving rubbish to the dumping area.
Moving – You can easily use a wheelbarrow to carry many small or heavier items when moving things around your house or moving to a new home.
Kids Toy – Did you know that there are also some very realistic toy wheelbarrow models for children to play with and move their toys around?
---
Features of a Good Wheelbarrow
Size – You will need to consider the size of the wheelbarrow. A smaller wheelbarrow is more lightweight for small garden work, whereas you may need a larger wheelbarrow for larger gardens and construction work.
Capacity – Check the size and weight capacity of the Wheelbarrow. Most electric models have a capacity of 200lbs and more, whereas manual models may be slightly lighter.
Comfortable Handles – The Wheelbarrow should have comfortable and ergonomic handles that are easy for you to use and grip. Many models have more ergonomic and textured handles to resist slipping or may have softer foam handles for comfort.
Type – You can choose either a manual wheelbarrow or an electric battery-operated Wheelbarrow. manual Wheelbarrows may be much more lightweight. However, they require much more physical work from your side and can only carry the loads you can push and hold. Electric Wheelbarrows will need to be charged regularly. However, they require much less physical exertion as they operate automatically to make your work easier.
---
Reviews: The Best Wheelbarrows
In our review section, we have some of the best available Electric and Manual Wheelbarrows for all your needs;
---
1
The Makita Brushless is power-assisted. Wheelbarrow comes from a well-trusted brand.
The Wheelbarrow is electric and has 100 minutes of run time with the 18V LXT 5.0 Ah batteries sold separately.
It has a Makita Built BL Brushless Motor that offers powerful and optimal performance.
The Wheelbarrow has a maximum 290 lbs load capacity.
There is a steel bucket that is durable and offers three cu. Ft. capacity.
---
2
The Best Choice Dual-Wheel Manual wheelbarrow is perfect for your garden and construction.
It is a deep wheelbarrow that can hold up to 5 cubic feet of soil, bricks, mulch, gravel, and other elements.
The Wheelbarrow has a two-wheel design with 13-inch durable rubber wheels and a sturdy build.
It has a versatile handlebar that is thick and padded for a more comfortable grip, and that can be a stand for idle use.
The Wheelbarrow is a heavy-duty design with a powder-coated steel frame for long-lasting use.
---
3
The Simplay3 easy-use Wheelbarrow is a smaller design for garden use that comes with a storage area for your gardening tools.
The Bonus storage tray allows you to easily store garden tools, small plants, drinks, and other items.
It has an easy rolling wheeled design that can pivot and maneuver easily.
There is an extra deep well for holding up to 4 cubic feet.
The design is weatherproof and durable with heavy-duty plastic.
---
4
The Stanley JR Wheelbarrow is a very durable and versatile manual wheelbarrow and a fun addition for your child to play with.
Ideally, it is a children's small Wheelbarrow so they can join you for some gardening fun.
It has durable wood and plastic parts that are weather resistant and long-lasting.
The Wheelbarrow is 32 inches, by 16 inches, by 17 inches in size, perfect for younger children.
---
5
From Worx, we have the Aerocart, an 8-in-1 wheelbarrow, and a dolly for many purposes.
It has a 200 lbs capacity and a Turbo Lift design that allows you to transport heavy items.
Eight diffeEightent carts transform it from a lightweight wheelbarrow to a yard cart, a bag holder, a dolly, extended dolly. A cylinder carrier or even a plant mover.
The tires are a flat-free design that is rugged and offers smooth manual riding.
There is a two-wheel placement that allows easy function of all eight functions.
The Wheelbarrow comes with the Aerocart, a Cylinder Holder, Bag Holder, Plant Mover Strap, and Rock Mover Mesh.
---
6
The Super handy Wheelbarrow is an electric-powered wheelbarrow and utility cart for all your needs.
It is 24V with a 12 Ah battery, 500w, and a 330lbs weight capacity.
The Wheelbarrow is all electric powered and brushless for heavy loads.
It is user-friendly and safe with proper usage and comes with a comfortable handle and durable wheels.
---
Index Table: Top Rated Wheelbarrows
---
---