Swings sets come in so many sizes, shapes and designs. You get single swings, swing chairs for adults, and full playsets with swings for children.
In this article, we will look at the different varieties of swing sets, especially wooden swing sets.

---
Benefits of Owning a Wood Swing Set
Swing sets are fun and also good for health, especially for children and even adults.
Here are a few reasons why;
Swing sets are fun! But did you know that they are actually good for your health as well? If you've been thinking about buying a swing set, then you'll want to check out these 5 great reasons why this will be a healthy purchase choice for you and your family.
Exercise for Kids – A good swing set or playset can provide plenty of exercises for your children to keep them healthy and active.
Enjoy the Great Outdoors – Because a swing set is an outdoor structure, it also allows adults and children to enjoy the fresh air outside. Aside from that, putting inflatable bubble tents outdoor is also good because kids or even adults can enjoy it.
Teaches Kids Life Skills – Children learn to socialize with friends, they learn patience to wait their turn, as well as other skills on a swing or playset. It teaches climbing, hand and eye coordination, along with many other valuable skills.
Enhances Motor Skills and Coordination in Kids. As mentioned, swinging, climbing, sliding, and playing on a swing set enhance children's fine motor skills and coordination to help their development further.
Good for Parents – You do get certain swings, such as the chair swing for adults to relax on. On the other hand, it could be enjoyable to enjoy a social event outdoors with children playing on a swing set.
---
Wood Vs Metal Swing Sets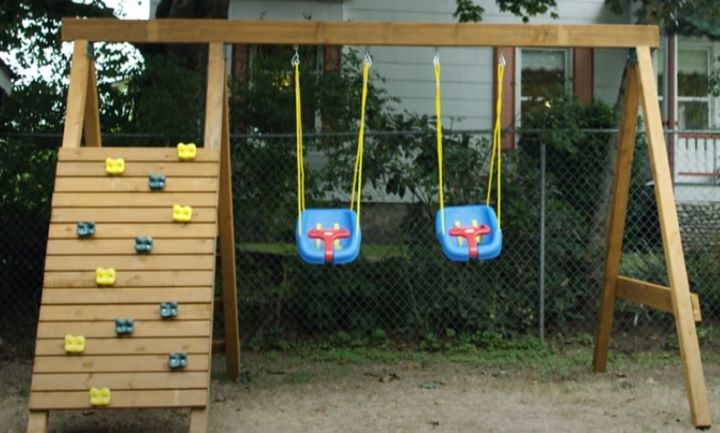 So now we get to the argument of whether wood or metal makes for a better swing set?
Most importantly, I would say that beyond the material, the swing set needs to be safe and sturdy.
Other than that, here are a few ways in which wood swing sets compare to metal swing sets;

Durability – Whereas metal has corrosion and rust issues, wood also needs to be treated for water resistance and to prevent rot. Generally, metal swing sets are not as sturdy or durable as wood, which will have a much longer life span.
Customization – Wood swing sets allow you to easily add beams, and other elements to the swing sets, whereas metal swing sets are more set in their form and do not allow for much customization.
Price – Then there is price. Wooden swing sets are much more expensive than metal swing sets, but I must add that they are of exceptional quality, versatile, and much more durable in the long term.
Maintenance – When parts break off a wooden swing set, they are easy to fix and replace. Most metal swing sets cannot be fixed, and parts are not easily replaceable.
Metal swings are a budget-friendly option that is far less expensive than wooden swing sets. However, they are not as durable and long-lasting. These are the main factors why we would recommend a wooden swing set over a metal swing set.
---
Features of a Good Wood Swing Set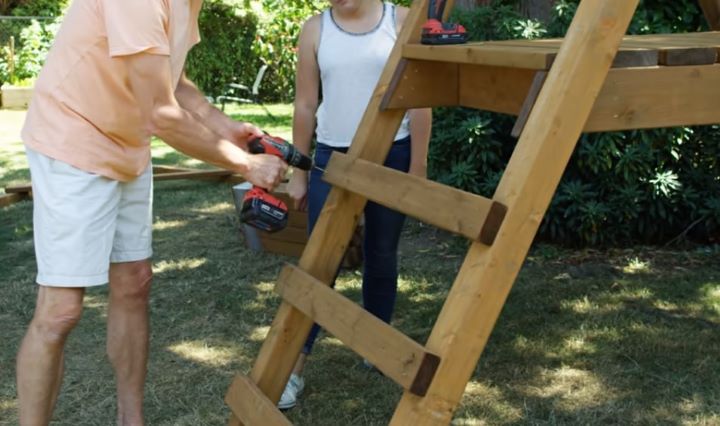 Type of Wood – When choosing a wood swing set, there are different types of wood that you can select from for your swing set. Cedar will be the most available because it is an excellent round wood of good quality and quite weather-resistant. Keep in mind that you do get good quality, as well as poor quality Cedarwood. On the other hand, redwood is also a good choice for more natural durability, it will generally last just as long as cedar, but it is much more expensive. If you are looking for the most durable wood, then premium preserved pine is your answer. Pine is weather-resistant, durable, and extremely hardy for a swing set.
Deck Height – Many swing sets will actually be a full playset that will have a deck, slide, swings, and other elements to it. If you go for a swing set with a deck, you will need to consider the height of the deck and the safety of your children. The most common deck heights are around 4 to 6 feet, while you get higher, up to 7 feet decks and 6 feet decks. The Higher the deck height usually means, the larger the swing set, the more costly it will be. The deck height also determines how the swings and other play elements will function and hang. A higher deck also means a longer slide.
Base – You get a square or an angled base on most swing sets. Angled bases have a larger rock wall and plenty of room underneath the deck for placing tires or other types of swings. At the same time, square base swing sets have less room underneath the deck and usually come with a picnic table or sandbox rather than swings.
Safety Features – For many parents, the budget for a swing set may not be all that great, and generally, for safer and more elaborate swing sets, you may need to consider that they are quite expensive. A safe swing set needs an A-Frame design with a solid 4×4 beam for a plain general swing set without a deck. The swing beam needs to consist of at least 4×6 solid pieces of wood. Make sure that the wood is already drilled and sanded in the package. The hardware of the swing set, such as nails and sharp elements, must not stick out anywhere. Commercial grade hardware also needs to be used instead.
---
How We Test and Score Wooden Swing Sets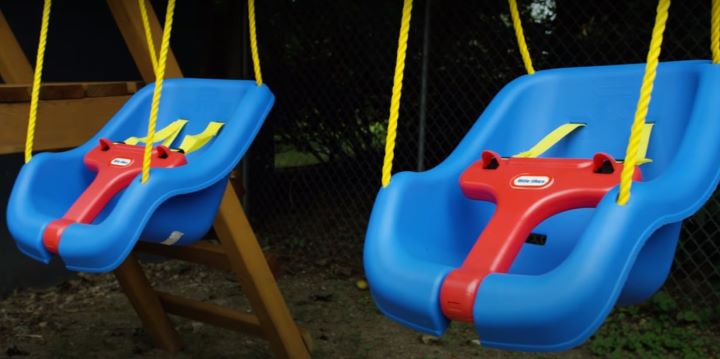 These reviews are based on intense research, analysis, and feedback from our experts and real users from different digital platforms.
We spent 37 hours trying, testing, and scoring these Wooden Swing Sets, for different key parameters and then shortlisted the best products in the market, saving you time and effort.
We used the following parameters for our tests and analysis.
Durability – We researched how long users can use these products without any reported changes in their quality or design.
Easy Assembly – We took note of how easy it was to assemble with the different products that we have tested.
Weather Resistant – We analyzed how effectively the product's material withstands damage from weather like sun, wind, and rain.
Maintenance – We researched how long users can use or consume it without any reported changes in the quality of the products.
Design – We analyzed the product's design to check if it is appropriate for users' liking.
---
Frequently Asked Questions (FAQ) About Wooden Swing Sets
---
Reviews: The Best Wooden Swing Sets
Here are some of our top favorite wooden swing sets for adults and children;
We hope you love the wooden swing sets we recommend!
So that you know, We may collect a share of sales or other compensation from the links on this page.

---
1
The Backyard Discovery Oakmont is a full cedar wood playset with swings, a deck, and a slide.
It is a safe and popular swing set for children that are colorful and has many play elements.
The deck has a canopy cover for protection against the sun.
The playhouse also features a lower play area with a clubhouse for kids and a snack stand with a built-in bench.
The single swing set also comes with a long ladder and slide.
This is quite a large playset that includes many elements and a swing for children in very durable cedarwood.
| Rating Category | Weight % | Score |
| --- | --- | --- |
| Durability | 30% | 100 |
| Easy Assembly | 25% | 100 |
| Weather Resistant | 20% | 95 |
| Maintenance | 15% | 95 |
| Design | 10% | 90 |
| Total Score | 100% | 97.25 |
---
2
The Backyard Discovery Durango is a similar set to the Oakmont.
The swing set consists of a durable 100% quality cedar wood frame in an A-Frame design and other materials.
It has two wide belt swings and pinches-free swing ropes for younger children.
The support beam is comprehensive and safe, and the solid heavy-duty legs are powerful and sturdy.
| Rating Category | Weight % | Score |
| --- | --- | --- |
| Durability | 30% | 100 |
| Easy Assembly | 25% | 100 |
| Weather Resistant | 20% | 90 |
| Maintenance | 15% | 95 |
| Design | 10% | 90 |
| Total Score | 100% | 96.25 |
---
3
This is another full playset for children from cedar Summit.
The frame of the swing set consists of durable cedar wood of the finest quality.
The swing set includes a slide, hideout, deck, and two plastic swings with rope handles.
The swing set comes ready to be assembled with all instructions needed.
| Rating Category | Weight % | Score |
| --- | --- | --- |
| Durability | 30% | 100 |
| Easy Assembly | 25% | 95 |
| Weather Resistant | 20% | 90 |
| Maintenance | 15% | 95 |
| Design | 10% | 90 |
| Total Score | 100% | 95 |
---
4
From best Choice products I have chosen something for the adults.
This is a swinging chair that adults and children can use.
It consists of weather-resistant Acacia wood and has steel chains for hanging.
Perfect for the outdoors or for your patio for the whole family to relax on.
The design is classic with a lovely wood finish that is weather resistant.
---
5
If you cannot afford fancy swing sets and full playsets for your child, why not enjoy the affordable and simple handing swing.
If you have a large tree or beam around in your garden, then you can easily hang this single swing up for a child to play with; you could even get two or more of them.
The seat is a premium elmwood, and it has high-quality ropes.
There are also two sizes available from which you can choose.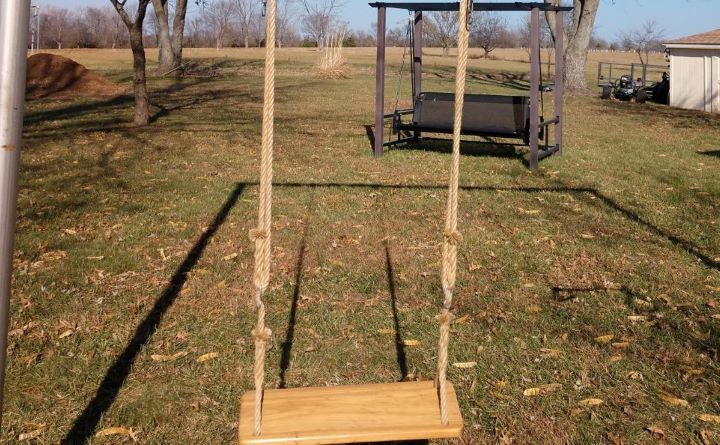 ---
6
The Beachfront Swing set is also a full playset for children.
It consists of 100% premium quality cedar wood with a tight knot structure for the swings.
There is a rock wall ladder and challenging monkey bars, as well as two belt swings.
There is also a trapeze bar and lower deck with a covered snack bar and bench.
The upper deck is quite large and has shipped a wheel and a toy telescope.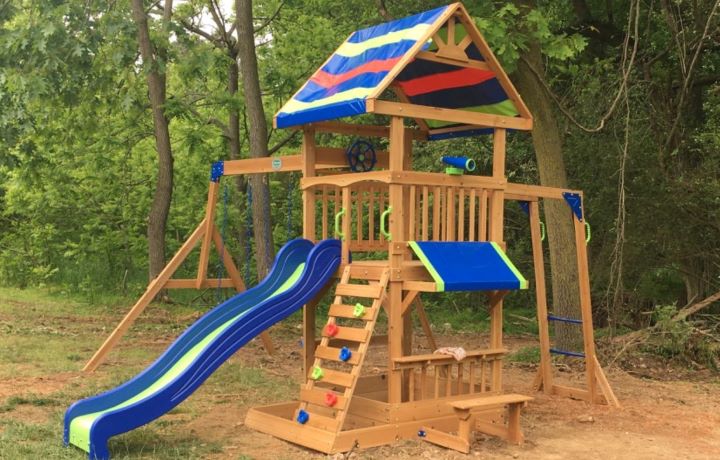 ---
7
The Swing N Slide is a durable wood swing set.
The set includes an all-wood frame and two swings.
It consists of durable hardwood.
It also meets ASTM standards for residential use.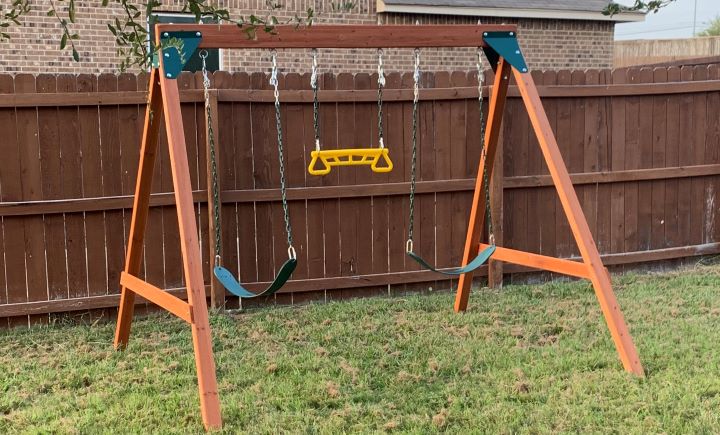 ---
8
The gorilla Playset is a full wood set.
It comes ready to assemble with a full manual.
The swing set has three stations.
There are swings and plenty of other activities for kids to use.
---
9
The Cedar Wood Playset is ideal for Children.
It is a play and swing set all in one.
Cedarwood is an excellent choice for a playset.
Durable and ideal for outdoor use.
---
10
The Sportspower Scottsdale swing set is also a top favorite.
It consists of durable cedar wood.
It comes with two swings, as well as a slide.
The set is perfect for outdoors for children to play on.
---
Index Table: Top Rated Wooden Swing Sets
---
---