Some of the links in this post are affiliate links. This means if you click on the link and purchase the item, I will receive an affiliate commission at no extra cost to you. All opinions remain my own.
A hidden camera outside in your yard can be an excellent option as a security measure from your home and alert you of movement in the yard, ideally when you have children and pets that may come into harm's way.
One of the most natural and decorative ways to hide a small camera is inside a rock that offers a sturdy base and good protection against the weather for a camera.
You can use synthetic or actual rocks and mount a small wireless camera inside it.
So in this article, I want to help you find the best-hidden cameras in rocks, as well as small cameras that you can hide in a rock of your choice;

---
Hidden Cameras in Rocks Do They Work?
Small outdoor cameras placed inside a rock will stay completely hidden and work very well.
The camera has motion detection, which immediately sounds off an alarm and will record the source of the motions.
You can keep an eye on your yard, keep kids and pets safe from swimming pools, or getting out, and protect yourself against burglars with a small camera hidden in a rock.
Furthermore, a rock is a neutral and natural element, whether real or synthetic, that will easily blend into your garden so that no one will suspect a camera in there.
On the other hand, you can place a camera on a rock outside your yard to know when you have visitors or when someone tries to enter the premises.
---
Best Places to Hide a Camera Outdoors
Besides just hiding a small camera inside a rock in your garden, there are a few other nifty areas that make excellent hiding areas;
A Bird Feeder – A safe and protected area to hide a small camera with a higher view, and no one will suspect it there. You can even use it as avid bird weather to see if new species visit your feeder.
Plants and Trees – Synthetic or realistic plants and trees make great hiding spaces for a hidden camera; however, with this option, you will need to make sure that the camera has some weather protection.
Lawn Decor – Pots, Lawn dwarves and Décor, and many other forms of decoration used in your yard can be the perfect place to hide a small hidden camera design.
---
Features of a Good Hidden Camera in a Rock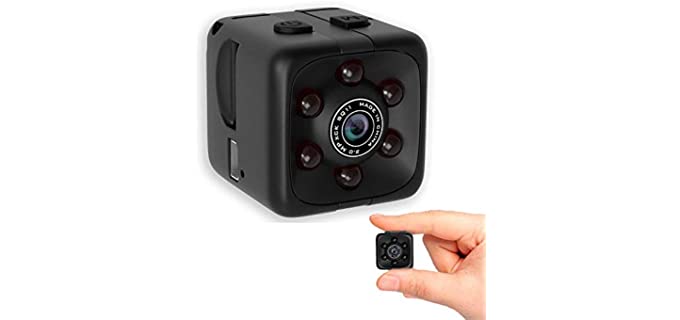 Design – The designs we have chosen are small cameras that you can place inside a rock and a camera inside a decorative Rock.
Outdoor Design – Most of the Spy Cameras in rocks are outdoor and indoor designs with good weather resistance.
Wi-Fi and Wireless – The Hidden cameras offer Wi-Fi or phone App operation. They are mostly wireless with batteries or a USB charging port.
Night Vision and Motion Detection – many hidden camera models do come with night vision and also motion detectors.
---
Reviews: The Best Hidden Camera in Rocks
In our list, we have Cameras hidden in rocks, as well as small cameras that you can easily hide in a Rock outdoors or indoors;
---
1
From the Spy-Max store, we have the rock-decorated hidden camera.
The camera is motion-activated and captures movement when something is in front of the sensor.
It has a smart design that sits inside a decorative rock, completely hidden.
The camera records files and plays them back.
It is very easy to set up and use.
---
2
The Mini Spy Camera from Grambifor is small and ideal for placing inside a decorative rock of your choice.
It is a Wi-Fi spy cam that has motion detection and is wireless.
The camera uses Wi-Fi to connect, and it can detect audio and motion.
It is a Full HD mini camera that easily fits inside small spaces.
---
3
The Arebi hidden camera is ideal for home use, and it will easily fit inside your choice of rock.
The hidden camera has night vision capabilities as well as motion detection for your protection.
It has a wide angle of operations and excellent live streaming capabilities.
The package includes the all-in-one wireless camera plus everything you will need for easy installation and operation.
---
4
The Jametin hidden camera for rocks has a small and compact design, and you will only need your rock.
It is a 1080 HD motion detection camera with high-definition resolution.
The camera has an infrared Led light for nighttime and multiple applications indoors and outdoors.
It is very easy to install and use, and you get a full set of accessories with your camera for full installation.
---
5
We have a full HD spy camera that you can hide in a rock or small space.
The spy camera and HD quality with video recording and motion detection.
It has a Loop recording design and can use a storage card up to 128G.
The camera offers upgraded night vision and infrared LED lights.
---
6
The Mini sky camera is the perfect choice for placing inside any rock in your home or garden.
It is a wireless Wi-Fi-operated spy camera.
The camera has a remote monitoring function with an APP on your phone.
It offers excellent night vision, as well as motion detection.
The camera is a multifunctional mini camera for all your needs.
---
7
The Upgraded Phone operated camera uses an App on your phone and Wi-Fi to operate.
The camera is small and completely wireless.
You can easily place it on a rock or a small item.
The camera can take a memory card of 8 to 256 G in size, which is not included.
It has an infrared LED light and excellent night vision capabilities,
It sets up in minutes and comes with everything you need for full operation.
---
8
The Mini wireless camera from the Muayb store is perfect for hiding inside a rock or similar items.
It is a compact design that is discreet yet very effective.
The camera offers full HD 1080P resolution and is highly portable.
It is wireless and can be used indoors and outdoors.
You have a slot for an SD card, which is not included.
The camera offers motion detection and good night vision.
---
Index Table: Top Rated Hidden Camera in Rocks
---
---