Some of the links in this post are affiliate links. This means if you click on the link and purchase the item, I will receive an affiliate commission at no extra cost to you. All opinions remain my own.
Tired of purchasing separate gardening tools and equipment that do not cover all your needs?
Well, for trimming, edging your lawn and weeds, and blowing away the leaves and grass, there is one simple solution: the Cordless Trimmer and Blower Kit.
The Cordless designs offer you so much more freedom, and you can cover any sized area quickly and easily without having to worry about cords that are in the way.

---
The Leaf Blower and Its Uses
The leaf Blower is a device that has many uses, and it is especially ideal for gardening. Ideally, to blow away leaves, the leaf blower blows out strong streams of air at variable speeds and size areas to clear rubble and debris in your yard and on your pavements.
Besides the Basic Uses, here are some uses for a Leaf Blower;

Large Amounts of Leaves – You can easily pile up large amounts of leaves in a suitable area by using your leaf blower.
Clean rain Gutters – You can use the leaf blower to clear your rain gutters.
Dusting – Leaf Blowers are ideal for clearing out the dust on shelves, equipment, or areas of your home.
Remove Snow – You can easily remove shallow Snow with a leaf blower.
Drying – The Leaf Blower is also quite suitable for dry surfaces or areas you have painted.
Clear Grass Clippings – Use Your Leaf Blower to Clear grass clippings into an area where you could use them as mulch or compost.
Clears Pathways – You can easily clear gravel, paved pathways, and areas with your leaf blower.
Clear Roof Shingles – You can easily clear leaves, dirt, and debris from your roof shingles without bending down.
---
Trimmers and Their Uses
The Grass Trimmer is a versatile machine that can e handy to keep your lawn neat and look its best. Trimmers come in a variety of shapes and designs.
Most of the Trimmers we have features are cordless string trimmers that use a nylon line to cut through grass and weeds. They are battery-operated and must be charged as part of the Blower and Trimmer unit combo.
Edging – many Trimmers are also versatile for edging or come with an edging device. They can add a neat touch to the sides of your lawn and keep the edges trimmed and neat.
Tapering – When you Tilt your Trimmer so that it is at an angle, use the leading edge of the line to cut the grass. This, in turn, creates a cleaner and more angled look to fenced edges.
parallel Cutting – One of the most common uses for a trimmer is for Parallel cutting. You hold the trimmer level, and the angle will create a simple straight cut.
–
Scything – Scything is a method of using a trimmer in a U-Shaped motion around you to trim longer grass in larger areas.
---
Features of a Good Cordless Blower Trimmer Combo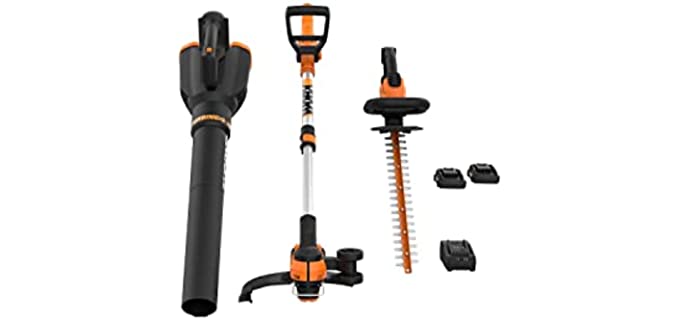 Leaf Blower – The leaf blower will be lightweight with a wide blowing range that you can set and speeds that you can set.
Trimmer – Mostly, you will have a string trimmer with cordless designs that sometimes come with an edging tool.
Batteries – The battery will be included with a charger and sometimes a backup battery for most models.
Design – The design should be lightweight with an ergonomic handle that allows easy grip and the right length.
---
Reviews: The Best Cordless Blower Trimmer Combos
In our list, we have some of the best available Cordless Trimmer and blower combo kits, some even with a few extras;
---
1
The Greenworks Trimmer and Blower Combo is completely cordless and comes with the battery and charger included.
It has a 12-inch string trimmer can power through the toughest weeds and grass.
There is a powerful 110mph blower with a speed trigger and cruise control.
The whole design is very lightweight and easy to handle.
It does not require much maintenance and needs no oil or gas for operation.
---
2
The Worx String Trimmer and Blower is fully battery-operated and cordless.
It comes with two 20V 2.0Ah Li-ion batteries that allow for extended run time.
The Trimmer quickly and easily converts into an edger or mini-mower.
The Blower is very powerful and has a compact, easy-to-use design.
It produces up to 360cfm in air volume.
---
3
The Black and Decker Powerconnect is a cordless battery-operated Blower and Trimmer Combo kit.
It is a two-in-one design that easily rotates 180 degrees from a string trimmer to an edger.
The Kit includes an automatic Blower that sweeps away dirt and debris on pathways.
There is a backup power system of two 1.5 Ah 20V MAX* PowerConnect batteries for a consistent charge.
---
4
The Worx 20V Power Share Blower and trimmer Combo Kit also has a hedge trimmer attachment.
It is lightweight and easy to handle, so you can do the whole yard without feeling tired.
It is ergonomically designed, making you more comfortable working with the device.
The Turbine fan technology of the Blower allows for 360 CFM at 75 mph.
It has dynamic airflow capabilities and is very quiet.
The Trimmer is efficient and durable, and there is an easy D-Grip handle for positioning your hands at any angle.
---
5
The Mytol Cordless String Trimmer and Blower combo also have an edger design.
It has two 20 V batteries and is fully cordless.
The two-in-one design can trim weeds and easily converts them into a handy edging tool.
There is a very powerful blower with 20 V power and 150 mph of clearing power.
The entire design and Kit are Ultra-lightweight to prevent fatigue.
---
6
The 15 Inch EGO Trimmer and Blower kit come fully equipped with a charger and battery for easy operation.
The leaf blower is compact and powerful, with a lightweight design with a 2.5Ah battery.
You get a 1pc 56 Volt 2.5Ah battery and 1pc standard charger in your package.
There is a string trimmer that easily cuts through weeds and grass, and it has a professional dual-feed spiral twist of 0.095 inches of string and a 15-inch cutting swath.
The device allows for various speed controls for different jobs.
---
Index Table: Top Rated Cordless Blower Trimmer Combos
---
---