As you have most likely seen in your vegetable and flower beds and even your lawn, weeds come creeping through and often move out or swap out your plants and vegetables to grow.
Weed is a pest we have all endured at some or another stage.
However, there is an easy and safe solution. The weed barrier is a fabric that covers the ground with just enough holes for your plants to grow through to prevent weeds from popping up.

---
Using a Weed Barrier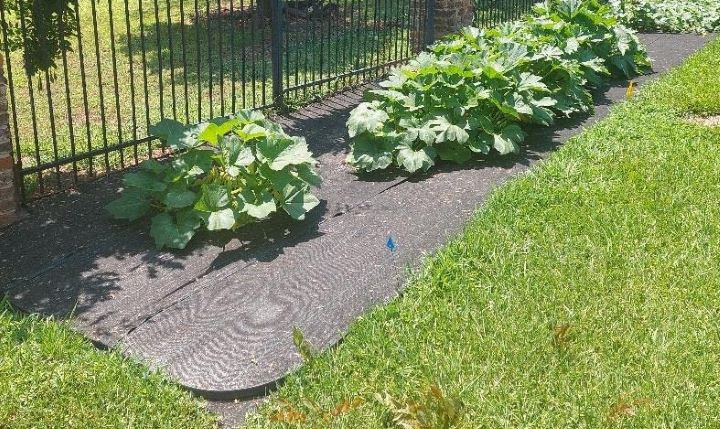 A weed barrier is a cloth or geotextile composed of polypropylene or occasionally polyester with a mesh-like texture similar to burlap.
The barrier is covered with mulch for aesthetic purposes and protection against the fabric's degradation to help maintain consistent moisture between range weed and barrier cloth.
A weed barrier should last around five years or more. It is water permeable and designed to prevent weeds from growing while your plants and flower flourish.
To use a weed barrier, you need to consider the area where you want to lay the weed barrier and get a specific barrier.
You want to lay down the fabric and cut slits into where the plants will be dug in, making sure the slits are big enough. You can also plant, place the barrier, and then cut slits over the pants or area where seeds are planted. To retain moisture, you will layer mulch over the entire weed barrier at around 1 to 3 inches thick.
Carry on with watering and providing fertilizer for your plants as usual.
---
Benefits and Drawbacks of a Weed Barrier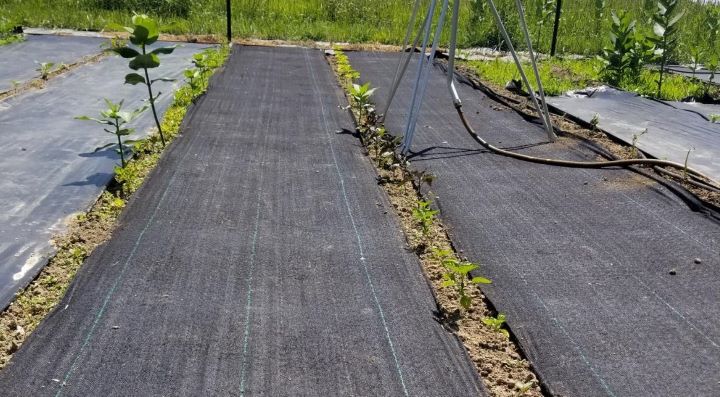 There are, however, some benefits as well as drawbacks to using a weed barrier;

Benefits – Weed barriers are impermeable at most but allow air and moisture to go through to your plants. It blocks light, restricts the growth of weeds, and suppresses them. It blocks weeds without drying out underlying soil or stripping it of nutrients. You can add other decorative items, such as tree bark because the barrier will also prevent the decomposition of such elements.
Drawbacks – Despite preventing the growth of weeds, landscape fabric or weed barriers could disrupt the natural processes that keep your garden healthy. Earthworms that help to aerate your soil and prevent it from becoming too compact cannot survive underneath a weed barrier as they cannot reach the soil's surface. You will also miss out on the natural decomposition of mulches of leaves and wood chips, which add nutrients to the soil. Although the fabric does stop weeds from growing from underneath, there may still be weeds that grow from the top layers of the mulch.
Although weed barriers may have limitations, there are some very good uses, such as rolling them underneath pavements and walkways or underneath a permeable patio and other areas.
---
Features of a Good Weed Barrier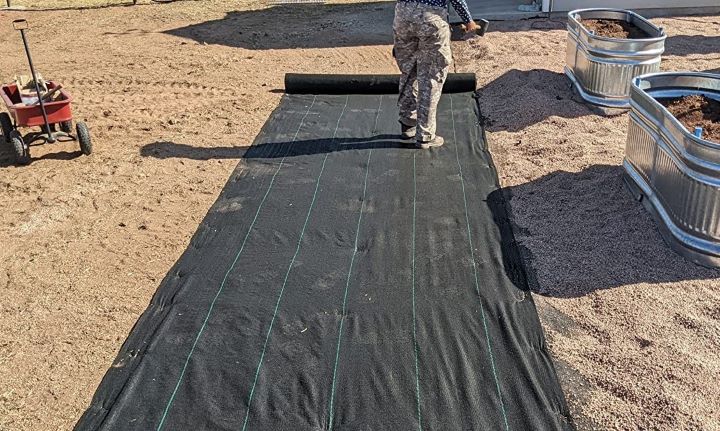 Choosing the right weed barrier for your garden is not a tough choice. However, it will depend on the size of the job and the main purpose of the weed barrier.

Type – You get woven, non-woven and perforated weed barriers. They often consist of Polypropylene or linen, and woven fabric is the most common barrier choice for flower beds and areas surrounding trees and shrubs. The small holes in the fabric allow better warren air and nutrient absorption. A sturdier non-woven barrier is advised for gravel gardens and pathways that allow some water movement but are as porous as fabric.
Thickness and Durability – Generally, the thicker the weed barrier is, the more it will cost. Thicker barriers should be used for paved and gravel areas, why thinner and more porous barriers are ideal for gardens.
UV Resistance – UV rays from the sun will cause damage to most surfaces, including weed barriers. Thus, it is advised to spread some much over it for protection to slow down the breakdown of the material.
Size of the Roll – You need to estimate the size of the area for which you need a weed barrier. You do not want to overestimate to avoid purchasing more from the barrier roll than you need.
Lifespan – Laying down the weed barrier is not a once-off job. Depending on the amount of sun and water it gets, it may last longer. Generally, most weed barriers will last around five years.
---
Reviews: The Best Weed Barriers
These are some of our top choices in durable and effective weed barriers;
We hope you love the products we recommend!
So that you know, We may collect a share of sales or other compensation from the links on this page.
---
1
From Hoople, we have a weed barrier landscape fabric ideal for multiple purposes.
The weed barrier is a heavy-duty and ultra-thick design that offers premium weed control.
It is ideal for flower beds, pavers, and walkways.
The weed fabric measures 2 inches by 1080 feet on the roll.
---
2
The Ctystallove is a premium weed barrier cloth for multiple uses.
It is a 5oz weed barrier and landscape fabric that stabilizes soil and provides excellent weed blocking.
The weed barrier is a heavy-duty design that is three feet by 50 feet in size.
It is soil friendly with no chemicals and very easy to install.
---
3
From the EcoGardener store, we have weed barriers available in different size options from which you can choose.
The weed barrier is a heavy-duty, durable design that blocks weeds and is very easy to set up.
It consists of a heavy-duty and durable fabric that is made to last very long.
The weed barrier is very effective and tough against weeds.
---
4
From Amagabeli Garden and Home, we also have a weed barrier cloth available in different sizes and rolls for your perusal.
The weed barrier consists of durable polyester and has a high density of 5.8 ounces, and is heavy-duty in design.
It is weatherproof as well as eco-friendly in materials and design.
You can easily set up the weed barrier, which can be used for multiple functions.
---
5
The Waenlir weed barrier system also offers you a few choices in the length and size of the weed barrier that you require,
It consists of a premium heavy-duty fabric that is safe and easy to use to block weeds effectively.
It is UV resistant and environmentally friendly with high permeability functions.
The weed blocker is very easy and quick to install.
---
6
The Newtion weed barrier is ideal for all your gardening needs.
The weed barrier has a 3ft to 150ft size and is a heavy-duty fabric option.
Ideal to use in your garden and for paving or walkaways. It is quite versatile.
The weed barrier fabric is durable and a premium Polypropylene material.
It helps to retain soil moisture and is easy to cut and install.
Ideal for keeping all weeds at bay.
---
7
From Greendale, we have the three by 100 feet roll weed barrier.
The weed barrier is a premium-quality fabric.
It is heavy-duty and weatherproof.
Very easy to install and made to last.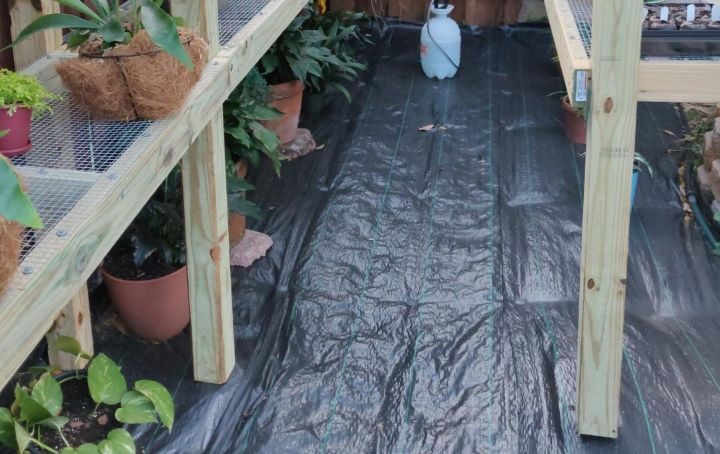 ---
8
The Ohuhu landscape fabric is ideal as a weed barrier.
It is a four by 50 feet size and 5 ounces.
The fabric is heavy-duty and highly absorbent.
It is ideal for weed control and has a great ground cover for mulch and flowers.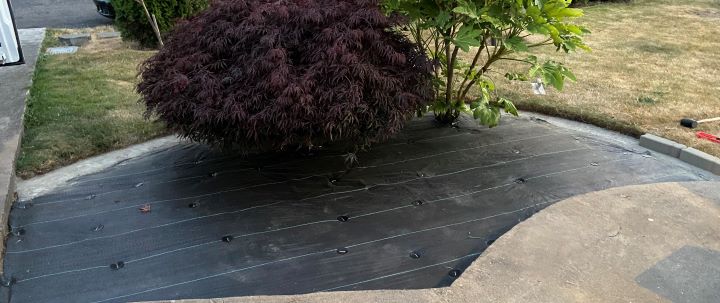 ---
9
The Snail weed barrier is a landscape fabric that is of premium quality.
It is a three feet by 100 feet size weed barrier.
The weed barrier consists of highly permeable weatherproof materials.
Very durable and excellent quality fabric.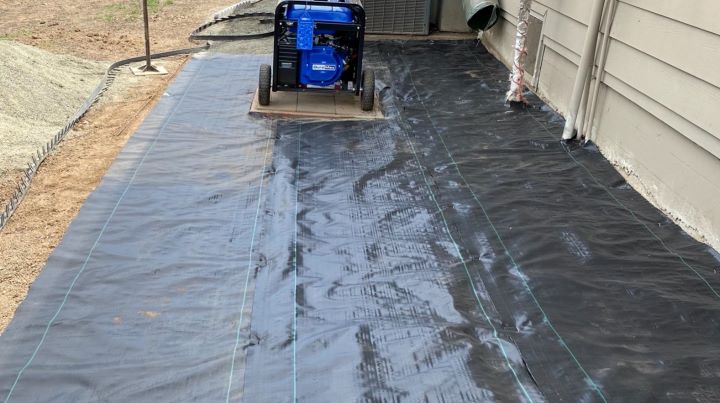 ---
10
The Happybuy weed barrier is a premium design.
It consists of the finest quality fabric with high permeability.
The weed barrier is a polyethylene weed barrier.
It is a heavy-duty fabric that is 6 feet by 300 feet.
---
Index Table: Top Rated Weed Barriers
---
---