Some of the links in this post are affiliate links. This means if you click on the link and purchase the item, I will receive an affiliate commission at no extra cost to you. All opinions remain my own.
The above-ground pool pad is a specialized piece of material that lines and protects your pool against punctures and provides underfoot cushioning in some models.
There are a variety of Pool Pads available, which may consist of different types of materials.
In this article, we will look at some of the best available Above Ground Pool Pads for your pool.

---
Why You May Need and Above Ground Pool Pad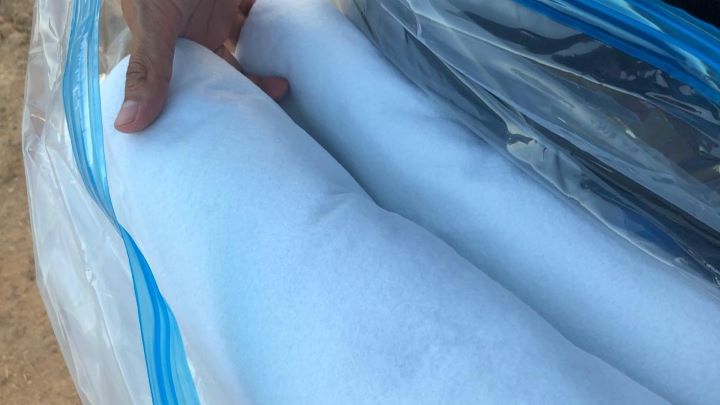 An Above Ground Pool is a fun, affordable, and enjoyable addition to your home or backyard.
Above ground, pools are ideal temporary and permanent pools that can be used during summer months and folded and stored during cold winters. Above-ground pools save space and effort and are more affordable compared to a real swimming pool.
Unfortunately, Above Ground Pools can tear or rip easily and leak. This usually means game over and that you need a new pool or to get a patch set, which can be quite a nuisance.
Mostly an above-ground pool is under constant attack from hard rocks and protruding items underneath, or may the area you want to place it be hard and full of puncture risks.
In this case, an Above Ground Pool Pad will come in very handy.
Other than that, the hard ground under your feet or when you want to sit can be quite uncomfortable. Many Above Ground Pool Pads are cushioned to provide comfort for these reasons in turn.
---
Choosing the Best Above Ground Pool Pad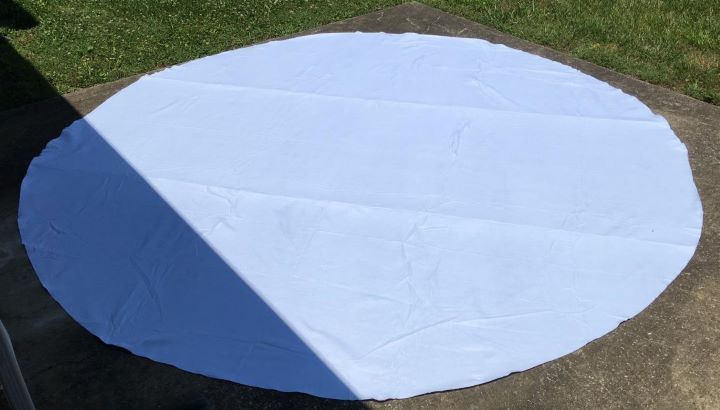 To Choose the perfect Above Ground Pool Pad for your Above Ground Swimming Pool, there are a few considerations that you need to take heed of;
What is the Size of Your Above Ground Pool – This may be difficult to get the exact size, so you want to get an Above Ground Pool Pad that will fit more or less exactly. There should only be a small amount of overhang on the edges when you place your Pool Pad on your Above Ground Pool.
What is the Type of Surface that Your Above Ground Pool Will Sit On – You will find that some Above Ground Pool Pads work well on Concrete and hard base surfaces, while others work well on grassy and rocky lawns. When you view the recommendations of the Pool Pad that you want to purchase, make sure to look at the specifications when it comes to the surfaces they may be placed on. You will see that you can only place some on a layer of sand.
What is the Climate Like Where You Live – If you live in a mostly humid and wet area, it would be wise to consider a water-resistant or mold and mildew-resistant Above Ground Pool Pad for use underneath r even on top. Moisture from the ground or even heavy rain may wreak havoc on a felt-type material pool pad. I would advise getting a Pool Cover or top pad that is water and mold resistant to protect your bottom pad.
Are You Looking for a Pool Pad for a Heated Pool or to warm Your Pool – Many Above Ground Pool pads are designed to reduce convective heat loos toward the water in your pool, which can become cold from the cold ground underneath. If you live in an area that tends to get cold, you will want as much heat in the water as possible, so make sure to look for a Pool Pad with heating capabilities.
---
Features of a Good Above Ground Pool Pad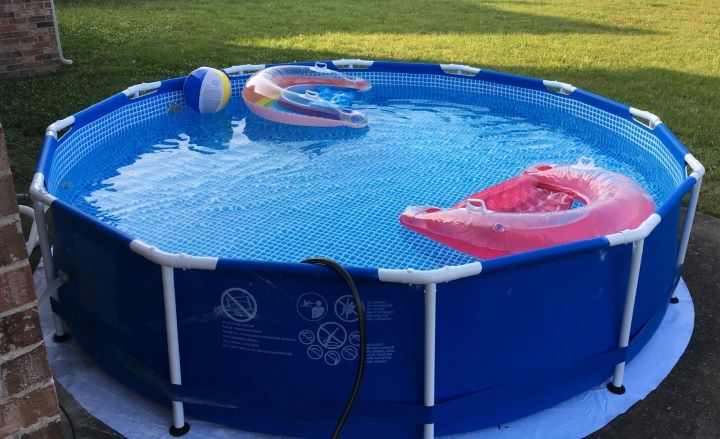 Durability – The main function of a good Above Ground Pool Pad is to protect the lining and base of your pool. That said make sure that the Pool pad is constructed fo very durable material and of good quality.
Permeability – The more breathable your Above Ground Pool Pad is, the more water, mold, and mildew resistant it is. Look for a Pool Pad with a looser weave rather than tightly woven fabrics. The loose weaved fabric breathes well and resists the formation of fo mold and mildew because of water condensation.
Cushioning – Cushioning is the second most important purpose next to protection from your Pool Pad. Especially if your Above Ground Pool is Placed on a hard surface or sharp rocks, some cushioning underneath your feet will be most welcome.
Ease of Use – Easy installation of an Above Ground Pool pad is not a priority but yet a great bonus to spare your time and frustrating effort. Easy single-piece construction is ideal, which also means that you need a size as close to your Above Ground Pool as possible.
---
Reviews: The Best Above Ground Pool Pad
If you are looking for the best available Above Ground Pool Pads, then look no further than our comprehensive list as follows.
We hope you love the products we recommend!
So that you know, We may collect a share of sales or other compensation from the links on this page.
---
1
Here we have the large 24 feet Gorilla floor pad for your above-ground pool.
It is tough to penetrate and durable.
Impervious to cuts and sharp objects to eliminate vinyl leaks.
It is padded for comfort and added protection.
---
2
The Rhino Pad Above Ground Pool Pad and liner are easy to install and very durable.
The Liner Pad is made from a very durable and strong, eco-friendly fabric material.
The Liner will also create a vapor barrier on the bottom of your swimming pool to prevent water from corroding metal parts of the pool and from causing mold.
There is no need for tape or additional materials. The Liner Pad is pre-measured to fit your swimming pool perfectly.
The Rhino Pad will prolong the life of your Pool and Liner.
---
3
From Horizon, we have the round piece underpad for your Above Ground Pool.
The Pool Pad consist of water-resistant synthetic polyester felt very durable materials.
The design is straightforward to install, and there is no taping or cutting required.
The materials are water-resistant and thick to prolong the life of the liner.
You will also find the pad soft and comfortable to walk on.
---
4
The Blue Wave is a 15 feet Round Above Ground Pool Liner Pad with other size options.
The Above Ground Liner Pad protects your Pool Liner from sharp objects puncturing it.
It also provides a comfortable layer of cushioning that is soft under your feet.
The materials used are very tough and durable, as well as water-resistant.
The Pad will likewise help to prevent your Vinyl Liner from leaking.
---
5
The Gorilla Floor Lining Pad for Above Ground Pools is 28 feet and adds cushioning.
The Lining Pad sits comfortably underneath your pool liners to add cushioning and protection against punctures.
The Geotextile and strong felt-like materials are incredibly durable and hard to puncture.
The Pad is already cut to size and seamed, so no taping or cutting is required.
The soft cushioning is comfortable under your feet and provides excellent protection.
---
6
Liner Life offers you their Pre-Cut Above Ground Swimming Pool Liner that is very strong and durable.
The Lining Pad is constructed from very tough and durable Polyester Geotextile materials.
The Pad provides excellent cushioning and puncture protection.
The Pre-Cut to size design requires no taping or cutting and is very easy to install.
You can extend the life of your pool with protection from the Liner Life Above Ground Pool pad.
---
7
The Above pool ground pad is durable and ideal.
It is 15 feet in diameter for a fifteen feet or less sized above-ground pool.
It will protect the bottom of your pool, and it is padded.
Constructed of cloth material.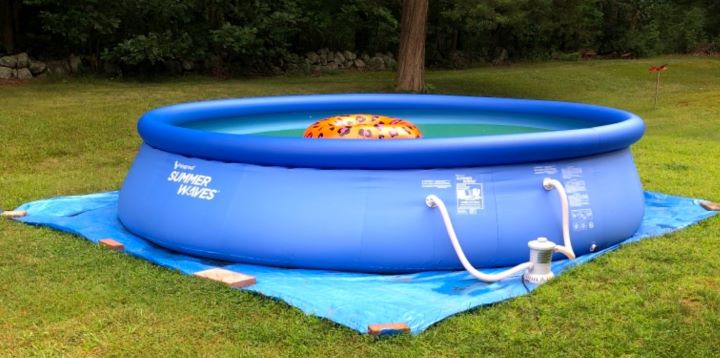 ---
8
The pool pad is designed for the above-ground round pools from Intex.
They are durable and padded,
It is ideal for an 8 to 15 feet pool.
The pool pad provides additional protection for the bottom of your pool.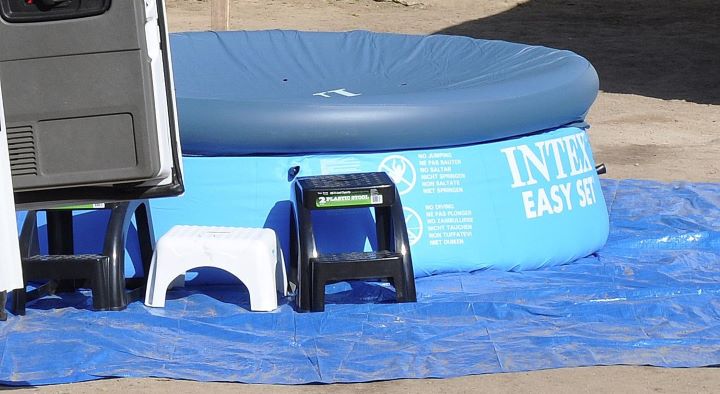 ---
9
This is the 12 Foot pool pad design.
It is very durable.
Defends your liner against punctures from rocks and roots.
It also cushioned the floor of your pool for your comfort,
It is mold and mildew-resistant, as well as easy to install.
---
10
The Rhino Guard Armor Pool Pad for Above Ground Pools is a 21 ft Pool Liner and Pad in one.
The Pre-Cut to fit 21ft Pool Liner and Pad will neatly fit your Above Ground Swimming Pool.
The Pool Pad protects your pool from Rocks, roots, and other elements that may cause punctures.
There is a single-piece construction, and no taping or measuring is required for your convenience.
Place the Elephant pad underneath your Vinyl Pool Liner using a sandal base.
---
Index Table: Top Rated Above Ground Pool Pad
---
---