Some of the links in this post are affiliate links. This means if you click on the link and purchase the item, I will receive an affiliate commission at no extra cost to you. All opinions remain my own.
Algae is a common irritation affecting indoor and outdoor water features, such as water fountains, ponds, and swimming pools.
Many individuals with water fountains likewise have fish or other water plants in their fountains or plants surrounding them, meaning they need a safe algaecide for their water fountains.
The best algaecides for water fountains may be multi-purpose for ponds and waterfalls, and they are generally safe for plants and animals.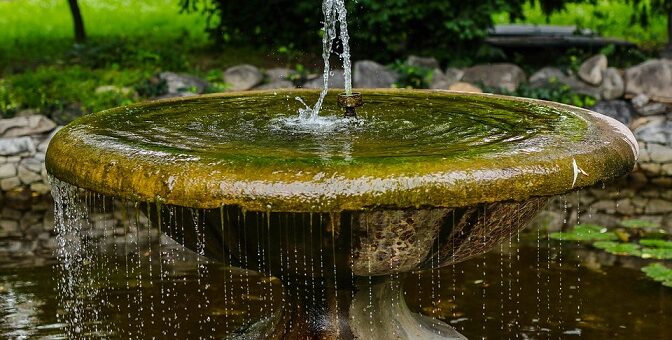 ---
How Algae Affects Your Water Fountains
Algae in a water fountain can be caused by many things, such as fish waste, organic materials from plants and leaves, or previous blooms combined with excessive sunlight.
There are mainly two types of algae that you can find in outdoor water features such as ponds and fountains;
Planktonic Algae – Planktonic Algae is a floating microscopic alga, the source of the blooms resembling pea soup, and can color ponds and water fountains green, blue, or brown. If controlled, this type of algae may not look good, but it can be beneficial to your fountain as it is the start of a food chain for fish, and it shades the bottom of your fountain or pond to prevent other nuisances, plants, and algae from growing.
Filamentous Algae – Also known as string Algae, this type of algae is a single-cell plant that forms long and visible threads, chains, or filaments in your ponds and fountains. They start to grow at the bottom of a pond or fountain in more shallow water as well as on rocks and other water plants. They will intertwine and form mats that resemble wool/ These algae may rise to the surface of the water and may resemble scum, they also make an excellent breeding ground for bugs and worms that are unwanted, and they can be quite unsightly.
---
Keeping Your Fountain Algae Free
Here are a few measures you can take to keep your fountain clean and free from algae;

Preventative Measures – If you lace your fountain n a shaded area, you are less likely to get algae. If it is a fountain without fish or plants in the water, you can use Chlorinated water in the fountain, which will generally not easily grow Algae. You can likewise use a preventative product to prevent algae growth in your fountain.
Removing Algae – You can scrub and clean your fountain to remove algae and use an algaecide to remove or prevent further growth. If your pump is very old and worn out, you can replace it, offering better water circulation to prevent algae growth in your fountain.
Maintenance – It is advised to change the water of your fountain every month to clean water. You will also need to keep the water pump clean and make sure that it is fully submerged in the water. A more thorough clean can be done every two to three months, where you will need to scrub and clean the entire fountain, the pump, and all the pipes and attachments.
---
Features of a Good Algaecide for Fountains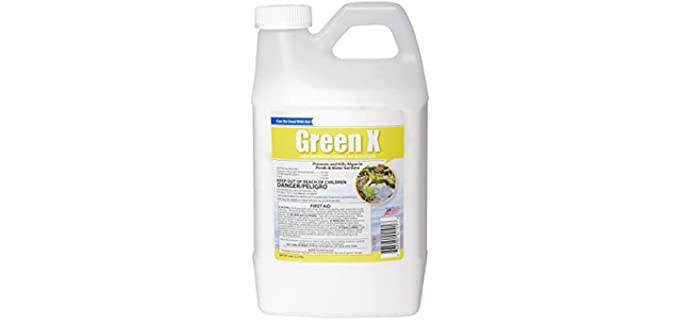 Clearing – Many Algaecides for fountains also have a clarifying effect which means it can clear your pond of planktonic algae that may cause the water to discolor.
Safety – Some algaecides are meant for water fountains without plants and fish, some are okay for plants but not fish, and you get algaecides for fountains with both fish and plants in them.
Size – You will need to check the description to see the fountain size according to the gallons of water the algaecide can use.
Versatile – Many Algaecides for fountains may likewise be used in ponds and other water bodies or features in your home or outdoors.
EPA Listed – You may find that most Algaecides are EPA listed for safety and reliability.
---
Reviews: The Best Algaecides for Fountains
These are some of our top favorite Algaecides, especially for water fountains;
---
1
The Fountain Algaecide is an algaecide and clarifier in one that kills all types of algae and inhibits growth.
You cannot use it in a fountain with fish, however.
The algaecide is effective against green water algae, string, hair algae, blanketweed algae, and other types of algae.
It does not stain, and it has a non-foaming design.
The algaecide will control green water and keep your fountain water clear and clean.
---
2
The EasyCare FounTec Algaecide is an algaecide that will also clarify the water in your fountain.
It is safe to use in a fountain or pond that contains plants but not fish.
Also non-hazardous and safe for humans and other animals.
It will be suitable for various indoor and outdoor water features and will likewise help keep the water free from mosquitos.
---
3
The BioSafe Systems GreenClean is a granular algaecide ideal for fountains and koi ponds.
It comes in a 20-pound bucket and can treat and control algae in up to 40 gallons of water.
The products are safe and ideal to use in ponds and fountains with fish and plants as it is more natural.
It will effectively kill and inhibit algae growth and improve the clean water quality and is a great chemical alternative that will still offer high-performance results.
---
4
The Spaces Fountain Algaecide reduces algae in fountains and ponds and is safer for clearing up the water.
It can be used in fountains with fish and plants as it is not chemical or harmful.
The algaecide works fast to eliminate algae and to control it in no time.
It also helps to clear up unsightly green water in your fountains and ponds.
---
5
The Green X Algaecide is an algae remover ideal for fountains, koi ponds, waterfalls, and all other indoor or outdoor water features.
It can treat up to 80 000 gallons of water at a time.
It is safe for fountains with fish and plants and is not chemical.
It will effectively remove algae, inhibit growth, and help clear up the water in your fountain.
---
6
The CrystalClear Algaecide is a solvent algaecide for clearer fountain water.
It is EPA registered and safe for use in ponds or fountains with plants and fish.
The algaecide will reduce green water and clear the water.
It can kill all algae and algae blooms and control growth to maintain your fountain.
---
Index Table: Top Rated Algaecides for Fountains
---
---