As pool season is around the corner, you may see more action than before, and you need to ensure that it is clean and stays clean throughout the summer.
Pool cleaning and maintenance take many forms, where you need to balance water levels, take care of algae, and remove debris and leaves from your pool.
Pool vacuuming is an excellent approach for hands-off cleaning and is ideal for removing unwanted debris, mud, and even alga in your pool.
You get both automatic and manual pool vacuums; however, for this article, we will be looking at the more affordable and versatile Manual Pool Vacuum.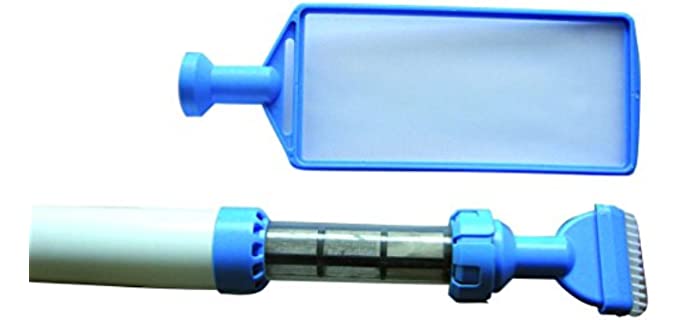 ---
What is a Manual Pool Vacuum?
The manual Pool vacuum functions similarly to the more expensive robotic pool cleaners or vacuums.
It is a device that suctions up debris, dirt, and algae from your pool, as well as from a spa, pond, or waterfall if needed.
The Vacuum is used by hand or with the addition of a hose pipe, and it such all the dirt from your swimming pool.
They are a more versatile and inexpensive method of cleaning your pool without the need of having to replace batteries, using cords, or needing to replace electronic parts that have malfunctioned.
The Pool Vacuum can be used manually for cleaning pools, ponds, spas, and even waterfalls quickly and easily.
---
Why You Need To Vacuum Your Pool
Vacuuming is an ideal way to keep your swimming pool, ponds, spas, and even waterfalls clean and free of any dirt and debris particles.
It does take a little work, but it will all be worth the effort, and you will spend less time-fighting algae and have more balanced pool water and pond water.
Having a clean pool means that the chemicals you add will work more efficiently, and you will need much less.
Your pool, pond, spas, and waterfalls look clean and aesthetically pleasing,
So how often should you clean your pool?
There are four main times in which you should vacuum your pool, or pond, and spas;
Spot Vacuum – Spot Vacuuming is done on a as-needed basis. When there is noticeable dirt or debris, you can do a quick vacuum on that area. You may also want to spot clean after a rain or a storm that may have caused dirt to enter your pool.
Seasonal Vacuuming – When opening your pool for summer, it is the perfect time to do intensive cleaning and vacuuming. On the other hand, when closing your pool for winter, you should also do a proper vacuum and cleaning after using it the whole summer.
Excessive Usage – If you use your pool excessively, much more dirt and debris will enter the PO,o and one-ending more regular cleaning. After a large party or gathering where the poo o you used, you might also want to vacuum our pool thoroughly.
Regular Maintenance – If you vacuum once a week, your pool will stay clean and free from algae and other dirt and debris, which is ideal for use regularly or moderately.
All in all, with pools, it will depend largely on the frequency of use, and weather conditions, which can affect how many times you may need to clean them.
Then again, for Ponds, spas, and waterfalls, the vacuuming will also need to be done regularly and on a need-as basis.
---
Features of a Good Manual Pool Vacuum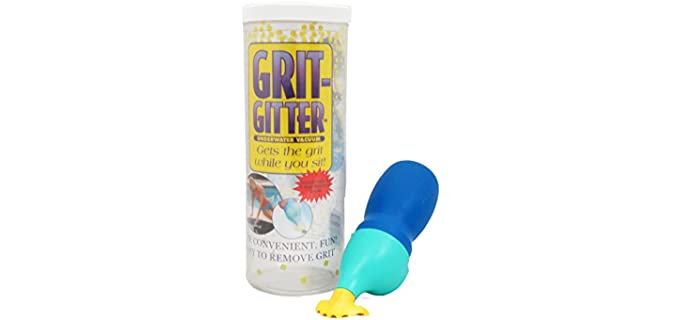 Use – Most Manual Pool vacuums are ideally suited for medium to smaller sized pools. You can also use them in a spa, pond, or fountains to clean them manually.
Suction – Manual pool vacuums may work with a hand pumping action that creates suction at a hose pipe that creates a venturi effect with the Jet suction models.
Adjustability – Many handheld Manual Pool Vacuums come with adjustable length poles for easy reaching.
Attachments – Addition poles for length, brush and headsets may be included in the Manual pool vacuum sets.
---
Reviews: The Best Manual Pool Vacuums
---
1
The pool Supply town Jet Manual Pool cleaner is versatile and easy to use.
It comes with 4 feet, extra long poles for larger pools, an extra suction head, and a handle.
It is versatile and adjustable to use in a pool, pond, spa, and fountain.
The handle length can be fully adjusted, and there are two head options.
You use it with a garden hose and Venturi effect inside the jet vacuum that produces strong suction to clean your pool.
No electrical power or batteries are needed; it is a fully manually operated device.
---
2
The Kokido Manual pool vacuum is quick and easy to clean your pool.
It will eliminate sandal, gravel, and other dirt and debris from the sides and bottom of your pool.
Ideal for both pools and spas, as a quick filtration system that is fully manual.
There is no need for electrical cords or even hoses.
---
3
The Poolwhale is a Manual Pump cleaner ideally suited for small to medium above-ground swimming pools.
It has a Mini Jet design vacuum that provides suctions to collect dirt, debris, and stains from your pool.
The complete jut comes with all attachments and brushes and can easily be used underwater.
You can also use it in spas, ponds, and fountains, making this one of the most versatile manual pool vacuums.
---
4
The Game Manual Pool cleaner is ideal for above-ground and inground pools.
It includes all its attachments, a wide-end nozzle, and a slide-On brush.
The Game Pool cleaner has a handled design, with easy manual pump action that creates suction to pick up dirt and debris in your spa or pool.
It can be used in large and smaller swimming pools and spa baths.
---
5
The Pool Blaster is a very small manual, handheld pool and spa cleaner that is easy to use for quick spot cleaning.
It is easy to use; you hold it over debris or grit and squeeze.
It is ideal for medium or smaller pools and spas.
The Design is ergonomic and very comfortable to use.
---
Index Table: Top Rated Manual Pool Vacuums
---
---