Nothing is more fun and relaxing than a proper Pool Float in your swimming pool, taking relaxation levels to another level.
With so many shapes, sizes, and types of Pool floats available today, the choice to purchase could be quite overwhelming.
Today we will look at some of the best available pool floats in different shapes and sizes and for different uses.
---
---
A Pool Float vs. a Raft
Why should you choose a Pool Float rather than a Raft, and what is the big difference?
Typically, a raft lies flat on the water with a Pillow section that supports your head. A Raft design will not support excessive movement lying on it or outside interference in the water. So if you are looking for a Floatation device to lay flat on in a quiet and serene setting, go for a Raft.
A Pool Float usually comes in a design that you can sit up or pro yourself in an upright position; however, some designs allow you to lie down, similar to rafts.
Some Pool Floats are long, so you can lie down with your back elevated to read a book or rest in that position. Pool Floats are generally better options in the water where there is movement, and you can move around on a pool float more than on a raft.
Pool floats come in many designs with added benefits such as drink holders, a sun canopy, or a seat included.
[/super_list]
---
Types of Pool Floats
Now that we have that sorted, let us look at some of the different types and designs in pool Floats;
The Classic Pool Float – The design lets users lie flat and relax on the water. The design is similar to a raft. This type of Float will either be mesh, foam, or inflatable.
Side by Side Pool Floats – This is also called a Family Pool Float, which is large and comes with seats to accommodate two or more persons seated or lying down on the pool float.
Fun Pool Floats – Mostly seated design Pool Floats or donut-shaped Pool floats allow for a sitting position where body parts are immersed in water. This float comes in many colors, prints, and designs and is usually ideal for children.
Canopy Pool Float – You can generally use a canopy on most of the larger design pool floats for family or for laying down to protect you against the sun.
---
Features of a Good Luxury Pool Floats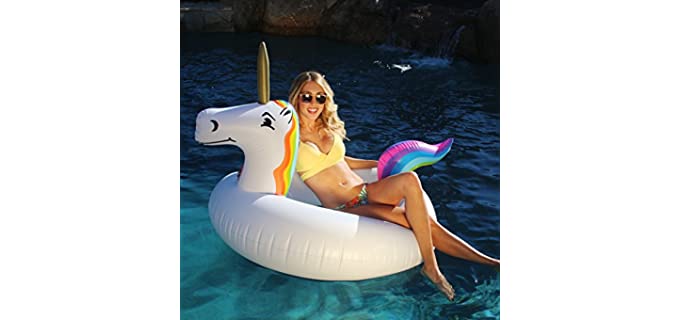 Materails – Pool Floats can consist of three types of materials; Foam, Inflatable Plastic, or mesh. Foam and Mesh are not collapsible and easily stored, such as inflatable floats, yet they are much more durable and long-lasting. Inflatable Pool Floats are more widely available and offer more design and shape options. Inflatable Pool Floats are easily inflated and deflated for foldable storage and are very lightweight. However, inflatable Pool Flaost are more prone to punctures and tearing.
Designs – Pool Floats come in large family seaters with space for holding drinks and seats, then there are your single floats for laying down or the seated donut-shaped pool floats.
Extras – added extras to some Pool Float models can include a Canopy for sun protection, cup or drink holders, or even a cooler box and seats.
---
Reviews: The Best Luxury Pool Floats
---
1
The best way CoolerZ Tropical Breeze is an Extra Large island design Pool Float for the whole family.
The design and size of the float are ideal for parties and large families.
The inflatable pool float is durable and made from strong materials.
It includes a detachable sunshade, extra wide pillow backrests for six people, and built-in cup holders.
PVC is used, which is very durable and tear-resistant.
---
2
From GoFloats, we have the Unicorn design pool Float for a single person.
The Pol Float comes in a size option for adults and children.
The Unicron design is fun and colorful.
The Pool Float has a donut design for sitting or hanging.
There is a rapid valve inflation valve that inflates and deflates fast.
You can also rest assured in the premium UV-resistant and tear-resistant materials.
---
3
The Big Joe Pool Float is a giant-sized turtle for children.
The Cheerful Turtle is fun for children to play inside a swimming pool.
It is a bean-filled Float that has secured and sealed zippers.
The surface material is Uv and tears resistant as well as very durable,
The design is ideal for pools and even for the beach or lake.
---
4
Intex is another top brand when it comes to inflatable Pool floats.
The Floating Lounger is ideal for adults and children.
The design allows you to lay back with your head and shoulders elevated.
The lounger has armrests and a head pillow.
Constructed from Uv resistant and tear-resistant PVC, it is very durable.
The Float is also very colorful in design.
---
5
The Segoal Inflatable Pool Float is a fun Water hammock, raft, and Swimming ring pool float for children and adults.
You can hang, lay down, or lounge in the ergonomically designed pool float.
It is very easy to inflate and deflate with no pump required.
The design is extremely comfortable on your back and your neck.
The Float is constructed of very durable Nylon material with no plastic.
There are also a few color options available from which you can choose.
---
6
Another fantastic model from Intex is their Splash n Chill Inflatable Large relaxation island.
The relaxation island is large and perfect for the whole family and parties.
You can use the floating raft inside a pool, lake, or beach.
The design has an easy grab rope, water hangout sport, comfortable seats, and a large lounging area.
It also has a cooler box in which you can keep cold drinks.
The item comprises durable, UV-safe materials that will not rip or tear easily.
---
7
Here we have a Luxury Chaise Lounge float.
It is ideal for lounging in comfort,
Large enough for one adult.
There is jet Valve technology for easy inflation and deflation.
---
8
The Sloosh Pool floats come in an asset of two.
They are inflatable water hammocks.
The floats are large and ideal for pool and lake use.
Unique and safe design.
---
9
SwimWays offers you a recliner float.
It is an inflatable and reclining lounger for comfort,
The Hyper Flate valve allows easy inflation and deflation.
Comes in many more colors.
---
10
Luxury pool Floats from FinUWill.
They are comfortable and durable.
Hammock Styled water floats.
There are also many colors available in striped options.
---
Index Table: Top Rated Luxury Pool Floats
---
---