The Immersion Heater is an integral design for heating pools, buckets of water, and other water bodies quickly and efficiently.
You get Immersion Heaters for pools, although most designs are for smaller water holders.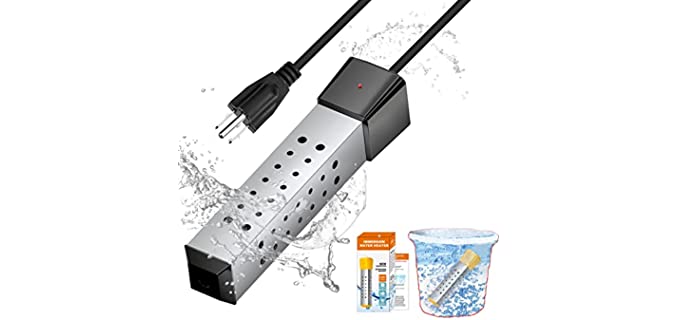 ---
---
Why Invest in an Immersion Pool Heater?
The water in your swimming pool may be very cold, even in summer, so you are less likely to swim in it.
Especially for younger children and the elderly, swimming pool water may be quite cold and uncomfortable.
You can choose from many Pool heating systems that will increase the pool's heat. Most swimming pools have a heat of 22 degrees Celsius to a max of 25 degrees Celcius in summer, which is still quite cold. A heater also extends the swimming season to cooler months. For individuals who have swimming schools, it may be vital to use a pool heater, such as an immersion pool heater, to keep the swimming pool at an acceptable heat for students.
---
The Immersion Pool Heater and How it Works
The immersion Pool heater works similarly to a kettle. It has a heating element and operates with electricity that heats the element, with a cover you can immerse in water. The energy is used to heat the surrounding water. You get small portable immersion heaters and larger heater pumps attached to your pool's filtration system pool.

How Long Does it Take for an Immersion Heater to Work – Larger Immersion heaters will heat a medium to large pool up in around half an hour to an hour. Your smaller Immersion portable heaters take around five minutes to heat five gallons of water.
Costs Involved – Most immersion heaters require electricity to run, and depending on the size of the heater and the PO l size, the heater may need to run for quite some time to heat an entire pool.
Pros and Cons of Immersion heaters – Immersion heaters are easy to operate and are quite affordable. However, they take quite a while to warm up the water, and most portable heaters are small and will not work in large pools.
---
Features of a Good Immersions Heater for Pools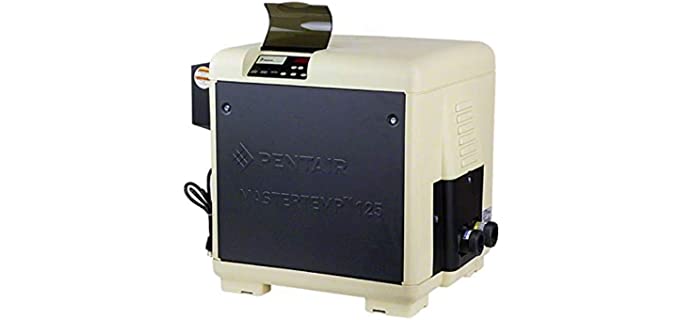 Heating – Check the wattage of the immersion heater and how fast it can heat water. 1500W will heat five gallons of water in a few minutes. You also get the larger units that work with gas and have 125,000 BTUs to warm up 15,000 gallons of water.
Construction – Submersible heaters will come with a solid stainless steel and rustproof cover to protect the heating element. Some may have other materials of corrosion and UV-resistant materials.
Operation – Most Immersive heaters for your pool may need an electric outlet, and some may attach to the pool's filtration system.
Stationary or Portable – You get larger-sized Immersion pool heaters that are a fixed option. However, smaller models that work with electricity will be more portable.
---
Reviews: The Best Immersion Heater for a Pool
Here are a few models of immersion Pool heaters for small and larger pools;
---
1
The BestWay Flowclear swimming pool immersion heater will take the chill out of your pool to enjoy a relaxing swim in lightly heated water.
It is ideal for Bestway design pools that are 15 feet or smaller and may be used in larger pools but will have less effect.
The Pool heater is very easy to set up and use.
It comes with a soft touch control panel and will connect to your pool filter with a 32 mm hose connection.
The Pool heater is compatible with a filter pump and sand filter with a flow rate of 1000 gallons per hour and below.
---
2
The Diximus Immersion Pool is a smaller, more portable electric pool heater.
It has a 1500W and 110V heating mechanism and needs an electrical outlet.
The Immersion heater is very powerful and handy to use.
It is ideally suited for smaller water bodies and pools, as it is more of a bucket and travel water heater.
The water heater has a heating coil that you dip in the water and a corrosion-resistant body.
---
3
We also have a smaller and more portable Pool immersion heater from Hamster.
The heater is portable and versatile so that you can heat water anywhere.
It suits smaller, inflatable swimming pools, heating baths, or bucket water.
The design is handy, easy to use, and very lightweight.
It is electrically operated with a stainless-steel protective cover and an LCD thermometer that also comes with the heater.
You immerse the heater in the water and switch it on.
---
4
The Pentair is a Propane Gas Immersion heater for larger, medium-sized pools and spas.
It is a compact and energy-efficient design that uses propane gas to function.
The heater boasts 125 000BT000 BTUU of gas heating power for heating up to 15,000 gallons of water.
It has a user-friendly design with a rotating digital display to allow any installation rotation that is easy to read.
Water pressure, stack flue sensor to prevent overheating, and an auto shut-off function.
---
5
The Dfaul immersion heater is a portable 2000W electric immersion heater for smaller pools, inflatable pools, baths, and buckets of water.
It has a very easy-to-use portable design that connects to an electric power source.
The heater has a wide application for smaller pools, travel and camping baths, and metal containers.
It heats up quickly and will heat five gallons of water within minutes.
The design is safe and comes with a durable and weather-resistant cover.
---
6
The Fitorch Pool immersion heater is portable and can heat five gallons of water in a few minutes.
It comes fully equipped with an LCD thermometer that is easy to use and read.
You immerse the heater in water and plug it into a grounded electric wall outlet, and the thermometer will help to measure water temperature.
You can use the portable water immersion heater for small pools, baths, spas, and travel or camping.
---
Index Table: Top Rated Immersion Heaters for Pools
---
---