Some of the links in this post are affiliate links. This means if you click on the link and purchase the item, I will receive an affiliate commission at no extra cost to you. All opinions remain my own.
The Pool Noodle is probably one of the best inventions for the swimming pool and many other purposes.
The pool Noodle is handy in your pool, around the house, and even in the garage and yard.
We want to introduce you to some of the best available pool noodle designs that are handy for your pool and other functions.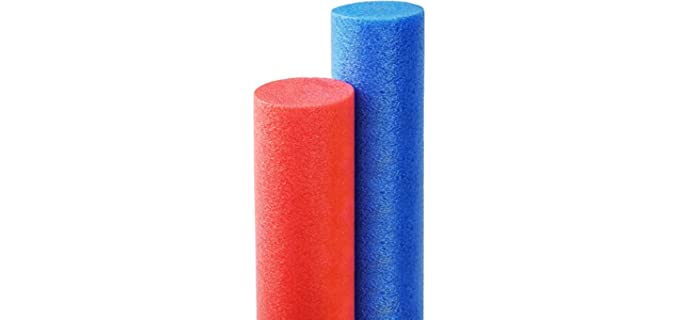 ---
What Are Pool Noodles Made of?
Well, the original and first Pool noodles consist of a Closed-Cell foam with many tiny bubbles infused into the foam, allowing it to float. Water cannot penetrate the foam cells, and the entire pool noodle can be bent and flexed, compressed, and easily return to its shape.
Polyethylene Foam is used to create pool noodles, for packing many times, and as foam pipe insulation in plumbing work. However, Polyethylene is not recyclable, but it surely is reusable for many things, as we will discuss further.
For Pool use only, I have also included some Inflatable Pool Noodle models because they are easy to store and more portable than foam Pool noodles. The Inflatable Pool Noodles usually consist of durable plastic or PVC that inflates and deflates as needed.
---
Fun Uses for Pool Noodles
Besides for use in your Swimming pool, here are just a few of the many uses for the Foam pool noodles;
Floating Drinks – Cut a pool noodle into smaller pieces, make some slits at the bottom, and attach them to a larger container. You can place some ice and a few cold drinks or cans in the container, which will float inside your pool.
Fishing Rod Organizer – You can place a Pool noodle horizontally on a wall in your garage or store room and cut small vertical slits where you can place your fishing rods with their ends held securely in the slits.
Trampoline Spring Cover – Cutting pool noodles smaller and slitting them halfway make great covers for those pesky springs on your trampoline that usually cause a nasty pinch.
Water Raft – By tying a few pool Noodles Together and placing additional noodles across the bottom, you can easily make a nifty raft for your pool.
Boot Storage – Cut Small pieces off your pool noodles and place them inside all your boots to keep them upright.
Use as a Handle – You can cut off a small piece of the Pool Noodle according to the size you need, cut a slit through the noodle, and use it to cover the hard handles of garden equipment. Use it for lawn mower handles, rakes, and shovels to make them more comfortable.
Paintbrush Holder – Cut a short section of the pool noodle, cut a horizontal slit at the bottom, and a few smaller vertical slits at the top. Place the horizontal slit offer a container with water, and place your paintbrushes in the vertical slits
---
Features of a Good Pool Noodle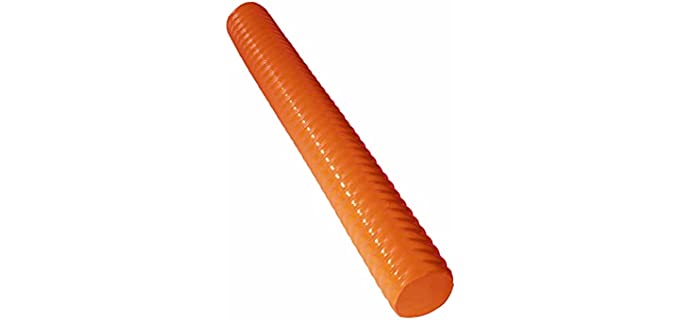 Materials – Most pool noodles will consist of a high density air-infused foam that allows them to float. Some inflatable models consist of durable PVC or plastic material.
Sizes – Pool noodles come I length of about 41 to 42 inches, 52 inches, and up to 72 inches in the longer length models. They are usually around 2.25 inches or 2.50 inches in thickness, depending on the brand and colors.
Colors – Pool noodles come in an array of fun colors and designs and are usually very colorful for use in the pool or arts and crafts.
Options – Some Pool noodle brands offer singles or sets of pool noodles, as well as some color options from which you can choose as you wish.
---
Reviews: The Best Pool Noodles
In our list below, we have some stunning options in both the foam and inflatable, floatable pool noodles for you;
---
1
The Robelle foam pool noodles come in 12 pool noodles for large families and pools.
They come in different color options from which you can choose, with mixed colors in the set for the whole family.
The pool noodles consist of high-density foam, and they will easily float.
They are 55 inches in length and two inches thick.
---
2
From Swimline, we have the Inflatable Pool noodles that come in an option of a single pool noodle or set up to 6.
They come in sets with straight and curly-styled pool doodles.
The noodles are compact and durable, consisting of high-quality plastic.
They are inflatable and will save you space.
The pool noodles are 72 inches, which is a much longer length.
They are available in options such as the Americana Doodle (1 Pack), Candy Cane Doodle (1 Pack), Classic Doodle Combo Pack (6 Pack), Doogy Doodle (1 Pack), Retro Print Doodle (1 Pack), Seahorse Doodle Set (2 Pack)
---
3
From Dreidel we have their foam floating pool noodles that are available in assorted colors, as well as sets for the family.
They are deluxe and durable foam that is sturdy and high density.
The pool noodles are designed to help you easily float in a swimming pool and can be used for crafts and insulation.
They come in a pack of two, and you can choose from plenty of colors.
The pool noodles are a regular 52 inches long and 2.25 inches thick.
---
4
From Chicago, we have durable, inflatable pool noodles that you can deflate and easily store or use to travel with.
They come in large sets and consist of quality PVC materials.
They are colorful and convenient for a variety of uses.
The pool noodles are shorter than 41.5-inch sizes.
---
5
Another option from Dreidel is the deluxe foam pool noodles that come in various colors.
They are sturdy, high-density foam that can float, with a 52-inch length.
The pool noodles come in sets of two multi-colors, and there are plenty from which you can choose.
They are the perfect design for a variety of purposes.
---
6
The California Sun Deluxe pool noodles are soft and plush, with a durable design.
They consist of a unique soft foam that is more gentle against your skin.
The orange pool noodle is ideal for children and adults and does come in more colors.
The design is unsinkable and extremely durable.
---
Index Table: Top Rated Pool Noodles
---
---