Some of the links in this post are affiliate links. This means if you click on the link and purchase the item, I will receive an affiliate commission at no extra cost to you. All opinions remain my own.
As Pool owners, we all want sparkling, clear pool water with the least effort.
Hiring a pool maintenance service may be expensive, and we only sometimes have the time to clean and vacuum our pools.
So why not invest in a no-fuss Automatic Pool Cleaner that does the work for you?
If you are interested in the Best Automatic Pool Cleaner for your swimming pool, this article is just for you!
---
---
Why Invest in an Automatic Pool Cleaner
So why exactly should you invest in the Best Automatic Pool Cleaner?
Well, robotic or automatic pool cleaners are one of the most popular innovations for your pool today. Here are a few reasons why they are such a great investment;
Cost Effective – The Automatic Pool Cleaner is a cost-effective device that will save you on pool service costs in the future.
Efficient Cleaning Capabilities – Some robotic pool cleaners have filters that are as low as 2 microns in cleaning, which means they clean the smallest particles effectively.
A Self-Contained Filtration System – The existing equipment has less wear and tear because they have a self-contained filtration system.
No Pumps Needed – Most Automatic Pool Cleaners require no additional pumps.
Cut Down on Pool Cleaning Time – You no longer have to spend hours cleaning your pool.
Climbing Walls – Some Automatic Pool Cleaning Models can climb and clean walls.
---
Types of Automatic Pool Cleaners
When it comes to Automatic Pool Cleaners, there are three main types, each with its unique features;
Suction Side Pool Cleaners – This Automatic Pool Cleaner uses suction from your skimmer to move around the pool and clean up dirt and debris. It is a vacuum that will move independently and will need your pool system for filtration and power.
Robotic Pool Cleaners – One of the best Automatic Pool Cleaners is the Robotic Pool Cleaner. They effectively clean large and small debris and circulating pool water—an electric motor and pump power Robotic Pool Cleaners.
Pressure Side Pool Cleaners – Pressure Side Pool Cleaners are top-rated because they can clean larger pieces of debris and are very durable. They use pressure from your pool's pump and filter to run.
---
Features of a Good Automatic Pool Cleaner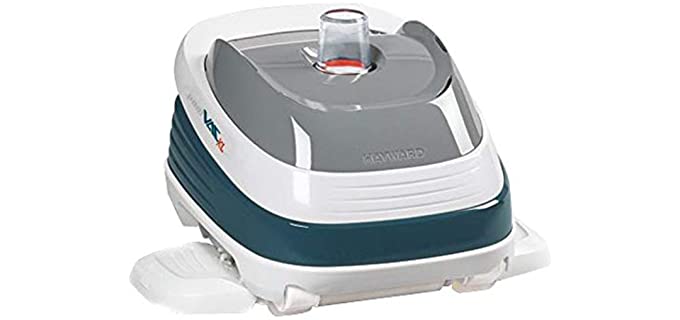 Pool Compatibility – Always ensure that your Automatic Pool cleaner is compatible with your pool. Some models can cater to in-ground and Above Ground pools or just Inground Pools.
Pool Vacuum Performance – This refers to the suction type, whether it only cleans smaller or larger debris particles. The Suction will also depend on the type of Automatic Pool Cleaner.
Cleaning Speed – This is how fast the Automatic Pool Cleaner works, depending on the pool size.
Wall Climbing – Some Automatic Pool Cleaners can also climb the walls and stairs of your pools to clean these areas.
Remote Control – Some Automatic Pool Cleaners are remote control operated.
Energy Consumption – Suction and Pressure Side Cleaning models use more energy than robotic cleaners because pumps power them.
Filter Quality – Make sure that the Filter on your Automatic pool cleaner is of good quality for it to last.
---
Reviews: The Best Automatic Pool Cleaners
Below we have some of the best available Automatic Pool Cleaners on the market;
---
1
The Dolphin Nautilus is a hassle-free and easy cleaning Top Load Pool Cleaning device that automatically cleans our pool.
The Dolphin Nautilus is ideal for inground swimming pools that e up to 50 feet in size.
It will take over your pool cleaning duties and leave your pool sparkling clean. It has dual scrubbing brushes and a superior filtering capability.
As it is an independent cleaning machine, no pipes, and pumps are required.
You can now easily clean your pool with the touch of a button using the three settings for automatic cleaning.
---
2
The Zodiac automatic pool cleaner has a low-flow design and uses Cyclonic suction technology to clean your pool effectively.
The Zodiac is an in-ground suction pool cleaner with an innovative low-flow design and two variable-speed pumps.
The Cyclonic suction's powerful vacuuming is very aggressive and effective.
It also has wall climbing abilities to clean walls and stairs in your pool.
The pool Cleaning machine has everything you need, including the package and a warranty card.
---
3
The Paxcess Automatic Pool Cleaner has an excellent wall cleaning feature, as it can climb the walls of your swimming pool.
An advanced computer system controls the Paxcess to function automatically and independently.
It is built for deep cleaning with a sponge, roller brushes, and strong absorbing abilities,
The swivel cord has a tangle-free design allowing the robot to move easily.
There is also an easy cleaning and powerful Filtration device.
---
4
The Hayward PoolVac uses technology to clean the pool floor systematically, walls, and even coves.
The Hayward is available in three options from which you can select.
It is a suction pool cleaner with aquaPilot technology for systematically covering the pool floor, walls, and coves.
The wide vacuum inlet allows for constant suction power.
It connects directly to your pool skimmers or suction ports for quick and easy installation. No debris bags need to be emptied frequently, as with independent models.
---
5
The Zodia automatically cleans your pool with powerful suction and an extra-long hose.
An automatic pool cleaner with a suction design.
It works exceptionally well in all above-ground pools; It will attach directly to skimmers and comes with a 30 feet feed hose.
Strong suction for effective cleaning.
The design is of good quality and very durable.
---
6
Another favorite from Paxcess is their suction cleaner automatic pool cleaner that can climb sides and walls and come with a sweeper.
This model from Paxcess is a suction cleaner that uses pool pumps for maximum efficiency.
It has wall climbing and cleaning capabilities and powerful suction.
The Cleaner seeps, cleans, and sucks, leaving no small or large debris behind.
It is swift and easy to assemble, and you will not need any tools.
---
7
The Paxcess Automatic pool cleaner has a wall climbing function.
It is a vacuum and service cleaner that is very effective.
The pool cleaner has intelligent detection technology.
---
8
From Polaris, we have the Vac-sweep automatic pool cleaner.
The pool cleaner is triple jet-powered.
It has a 31 feet hose and is for indoor pools.
Very durable and efficient.
---
9
The Aiper Smart Automatic Pool Cleaner is cordless.
It has smart technology and upgraded motors.
Lightweight and waterproof in design.
It also is ideal for above-ground pools.
---
10
Here we have another automatic pool cleaner model from Paxcess.
It has wall climbing functions.
The pool cleaner I lightweight and powerful.
It has an auto-clean setting for your convenience.
---
Index Table: Top Rated Automatic Pool Cleaners
---
---